UNIQUE Japanese Girl Names! 
Traditional Japanese girl names always are a great choice as they have a reflective significant meaning and yet are inimitable for people from different background. When it comes to Japanese baby girl names, the charm lies in their petite spellings and soft sounds. Isn't that what you were exactly looking for deciding name for your baby girl? 
Make sure that you always look for the meaning of the name before selecting any random sound! Thus we have researched the actual meanings of these baby girls names from the land of peace – Japan.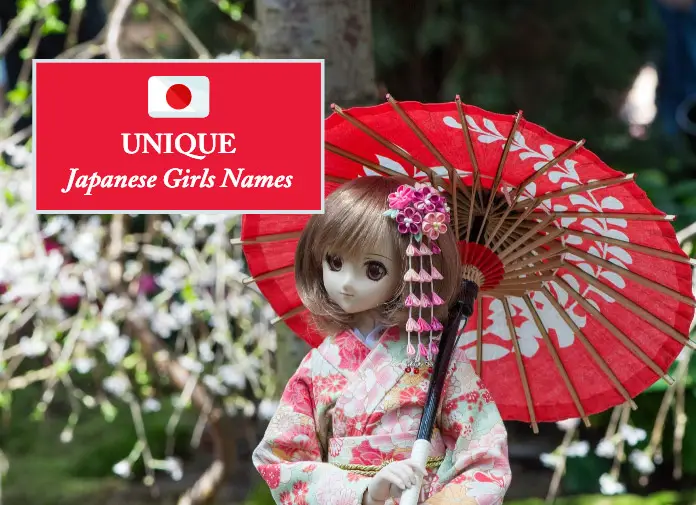 Without further holdup dig in the latest trending Japanese girls names for your little Aiko! ?
1) Ai: Love, Affection, Indigo Blue
2) Aika: Love Song
3) Aiko: Love Child, Child Who Will Be Loved
4) Aimi: Beautiful Love, Affection
5) Aina: View, Sight
6) Airi: Love, Affection
7) Aiya: Beautiful Silk, Colorful, Design
8) Akahana: Red Bright Flower
9) Akane: Deep Red, Dark Red
10) Akari: Light, Brightness
11) Akiko: Sparkle, Bright, Autumn
12) Akira: Bright, Wisdom, Clear, Intelligent, Light Coming From The Sun
13) Amaya: Night Rain
14) Andrea: Womanly, Daring
15) Annaisha: Helpful Guide To Others
16) Asa: Born In The Morning, Child Of Light
17) Atsuko: Warm, Kind, Honest Child, Pure, Sincere Child
18) Ayaka: Fragrant, Colorful Flower
19) Ayumi: Step, Walk, Peaceful, Progress
20) Azami: Word Of Heart, Thistle
21) Bashira: Joyful, Joyous Child
22) Botan: Long Life
23) Chaisa: One Thousand Mornings
24) Chiaki: A Thousand Autumns, Sparkling Light
25) Chieko: Child Blessed With Wisdom, Wise Child
26) Chihiro: Love, Seeker, Thousand Questions
27) Chika: Thousand, Wisdom Intellect, Excellent
28) Chinami: Wisdom, Knowledge
29) Chiyoko: Thousand Generations, Child Of Forever
30) Chizue: Durability, Long Life
31) Cho: Butterfly
32) Dai: Large, Generation
33) Danuja: Ruler, Knight
34) Emiko: Blessing, Prosperous Child, Beauty, Smiling Child
35) Ena: Gift From God
36) Eri: Blessed With Reason,
37) Etsuko: Joy Child
38) Fuji: Wealthy, Abundant, Man Of Status,
39) Fumiko: Wealthy, Strong Beautiful Child
40) Gen: Spring, Blossom
41) Gina: Silvery
42) Hanako: Flower Girl, Shine, Splendor, Fair Blossom
43) Haru: Spring, Clear Weather, Sunlight, Born In The Spring
44) Haruka: Distant, Remote, Spring
45) Haruki: Radiant Spring, Clear Weather, Light, Sun, Brightness
46) Hatsu: First Born, Beginning
47) Hayami: Rare Unusual Beauty
48) Hibiki: Sound, Echo
49) Hikaru: Shining Brilliance, To Shine, Radiance
50) Hina: Light, Sunlight, Sunday, Greens
51) Hiroko: Generous, Tolerant Child, Abundant, Prosperous Child
52) Hoshi: Star
53) Humiya: History, Healthy
54) Iku: Nourishing
55) Ima: Present, Now
56) Isamu: Courage, Bravery, Vigorous
57) Ito: Thread
58) Iwa: Strong, Rock
59) Izumi: Fountain, Spring
60) Jin: Tender, Benevolence, Deep
61) Jun: Moisture, Pure, Clean
62) Kaede: Maple Leaf
63) Kaiya: Forgiveness, Forgiving
64) Kaiyo: Forgiveness
65) Kameyo: Generation Of The Tortoise, Long Lived
66) Kano: Skill
67) Kaori: Scent, Aroma, Fragrance
68) Kasumi: Mist, Pure, Clear, Blossom
69) Katsumi: Victorious Beauty, Win Over Oneself
70) Kazashi: Hair Ornament
71) Kazue: Harmony, Peace, One Blessing
72) Keioko: Lucky, Blessed Child, Respectful Child
73) Kichi: One Who Is Lucky, Fortunate
74) Kiko: Be Glad, Hope
75) kimi: Beautiful, Beauty Of The Century
76) kioko: Happy Child, Meets World With Happiness
77) kiyoko: Clean, Pure, Holy Child
78) koemi: Little Laugh, Smiling
79) Koharu: Spring, Heart, Small
80) Koto: Beautiful Harp
81) kukiko: Child Of The Snow, Snow Girl
82) Kumi: Forever Beautiful, Long Time Beauty
83) Kura: Treasure House
84) Madoka: Circle,
85) Mai: Real, Genuine, Love, Affection
86) Maiko: Dance Child
87) Majime: Earnest One, Soberness
88) Mamiko: Real, Genuine, Beautiful, True Beauty
89) Manami: Love, Affection, Beauty
90) Mao: Real, True
91) Maru: Round, Circle
92) Masako: Elegant, Refined, Proper Child
93) Masumi: True Purity, Increasing Beauty
94) Matsuko: Pine Tree Child
95) Mayumi: True Beauty, Elegant Bow, True Bow, Spindle Tree
96) Mei: A Reliable Sprout, Reliant
97) Michiko: Beautiful Wise Child, Child Of Morals, Child Of Thousand Beauty
98) Midori: Green
99) Morina: Forest Town
100) Naoko: Sincere Child, Honest, Green Child
101) Nara: Happy, Flower From Heaven
102) Nariko: Gentle Child
103) Natsuko: Summer Child
104) Nisbett: Trustworthy, Dependable, Reliable
105) Nishi: From The West
106) Nobuko: Trust, Faithful Child, Belief In God,
107) Nori: Belief, Tradition, Doctrine
108) Noriko: Child Of The Ceremony, Law, Order
109) Nozomi: Hope, Wish
110) Nyoko: Gem, Treasure
111) Orino: Workers Field, Weaver's Field
112) Rei: Lovely, The Tinkling Of Jade, Beautiful
113) Reiki: Spiritual Healing
114) Reiko: Pretty Child, Gratitude
115) Reina: Wise
116) Ren: Lotus, Love, Water Lily
117) Rika: Always Strong
118) Riko: Child Of Jasmine, White Jasmine
119) Rin: Dignified, Severe
120) Rina: Jasmine Village, Park
121) Rini: Little Bunny
122) Rio: Place Of The Cherry Blossom, White Jasmine
123) Risa: Sand Of Village, Smile, Laughter
124) Ruqa: Bright Blue Flower
125) Ruri: Gemstone, Emerald
126) Ryoko: Good Child, Understanding Child, Truth
127) Sachi: Blessed Child, Child Of Bliss, Happiness
128) Sada: Pure Woman, Chaste, Pure One
129) Sadashi: Ambitious One
130) Saiua: Ripe Fruit
131) Sakae: Prosperity, Saint
132) Saki: Hope, Blossom
133) Sakiko: Blossom Child
134) Saku: Remembrance Of Lord
135) Sakura: Cherry Blossom
136) Sango: Coral
137) Saory: Nicely Woven Cloth, Beautiful Fabric
138) Satchiko: Lucky Child
139) Satoko: Wise Child, Wisdom, Enlightened
140) Satomi: Wise, Beautiful, Holy Beauty
141) Sawako: Refreshing, Sweet Child, Brilliant Child, Graceful
142) Sayaka: Clear
143) Sayuri: Small Lily
144) Seijun: Pure
145) Seika: Pure Summer, Excellent
146) Seiko: Holy Child, Blue Child, Fine Child
147) Seina: Star, Nara, Happy
148) Sejun: Pure, Very Clever
149) Sen: Wood Fairy
150) Shaiwase: Happiness, Good Fortune,
151) Shiki: The Four Seasons
152) Shinju: Pearl
153) Shinobu: Endurance, Enduring
154) Shiori: Bookmark, Guide, Poem
155) Shizu: Quite, Clear
156) Shun: Talented, Fast, Speed
157) Sora: Chirping Song Bird, Sky
158) Sorano: Heavens, Sky, Of The Sky
159) Subaru: One Who Unites
160) Suki: To Like, To Love, Beloved
161) Suzue: Branch Of Little Bells
162) Suzume: Sparrow
163) Takara: Treasure, Jewel
164) Taki: A Plunging Waterfall
165) Tamaki: Jewel Tree, Gem
166) Tamane: Sound Of A Necklace
167) Tamashii: A Soul, A Spirit
168) Tami: Let People See Benefit, Blessed People
169) Tamiko: Beautiful Child, Child Of The People
170) Tani: Stand Of Glory
171) Taura: Many Lakes
172) Toki: Full Of Hope, Time Of Opportunity
173) Tokiwa: Steady, Eternally Constant
174) Tomiju: Wealthy And Longevity
175) Tomoko: Friendly Child, Wise Child, Knowing, Intellect, Wisdom
176) Tomomi: Wisdom And Beauty
177) Tora: Tiger, Thunder
178) Toshi: Bright, Intelligent, Mirror Image
179) Tsubame: Swallow, Bird
180) Tsubasa: Wing
181) Tsuru: Long Life, Crane
182) Ume: Apricot, Plum Blossom
183) Umeko: Plum Blossom Child, Patient
184) Umi: Ocean
185) Urara: Serene, Beautiful
186) Usagi: Rabbit Of The Moon
187) Ushio: Tide, Opportunity, Salt Water
188) Uta: Song
189) Utano: Field Of Songs
190) Wakaba: Young Leaf
191) Wakana: Sweet Music
192) Wakumi: Spring Of Water
193) Wattan: From The Homeland
194) Yasu: Peace, Quite, Peaceful
195) Yasuko: Peaceful Child
196) Yo: Positive, Bright
197) Yoahino: Good, Respectful, Fertile Field
198) Yoko: Child
199) Yori: Reliable, Trustworthy
200) Yoru: Dark Fire
201) Yoshi: The Best, Good Virtuous, Good Luck
202) Yoshiko: Good, Fragrant, Child Of Joy
203) Yua: Love , Bind, Affection
204) Yui: Excellence, Gentleness, Superiority
205) Yuina: Tie, Bind
206) Yuka: Excellence, Superiority, Fragrant, Flower, Blossom
207) Yume: Dream
208) Yumi: Tenderness, Beauty, Excellent Beauty
209) Yuna: Kindness, Gentle Heart
210) Yuri: The Light Of God, Lily Flower
| Name | Meaning |
| --- | --- |
| Ai | Love, Affection, Indigo Blue |
| Aika | Love Song |
| Aiko | Love Child, Child Who Will Be Loved |
| Aimi | Beautiful Love, Affection |
| Aina | View, Sight |
| Airi | Love, Affection |
| Aiya | Beautiful Silk, Colorful, Design |
| Akahana | Red Bright Flower |
| Akane | Deep Red, Dark Red |
| Akari | Light, Brightness |
| Akiko | Sparkle, Bright, Autumn |
| Akira | Bright, Wisdom, Clear, Intelligent, Light Coming From The Sun |
| Amaya | Night Rain |
| Andrea | Womanly, Daring |
| Annaisha | Helpful Guide To Others |
| Asa | Born In The Morning, Child Of Light |
| Atsuko | Warm, Kind, Honest Child, Pure, Sincere Child |
| Ayaka | Fragrant, Colorful Flower |
| Ayumi | Step, Walk, Peaceful, Progress |
| Azami | Word Of Heart, Thistle |
| Bashira | Joyful, Joyous Child |
| Botan | Long Life |
| Chaisa | One Thousand Mornings |
| Chiaki | A Thousand Autumns, Sparkling Light |
| Chieko | Child Blessed With Wisdom, Wise Child |
| Chihiro | Love, Seeker, Thousand Questions |
| Chika | Thousand, Wisdom Intellect, Excellent |
| Chinami | Wisdom, Knowledge |
| Chiyoko | Thousand Generations, Child Of Forever |
| Chizue | Durability, Long Life |
| Cho | Butterfly |
| Dai | Large, Generation |
| Danuja | Ruler, Knight |
| Emiko | Blessing, Prosperous Child, Beauty, Smiling Child |
| Ena | Gift From God |
| Eri | Blessed With Reason, |
| Etsuko | Joy Child |
| Fuji | Wealthy, Abundant, Man Of Status, |
| Fumiko | Wealthy, Strong Beautiful Child |
| Gen | Spring, Blossom |
| Gina | Silvery |
| Hanako | Flower Girl, Shine, Splendor, Fair Blossom |
| Haru | Spring, Clear Weather, Sunlight, Born In The Spring |
| Haruka | Distant, Remote, Spring |
| Haruki | Radiant Spring, Clear Weather, Light, Sun, Brightness |
| Hatsu | First Born, Beginning |
| Hayami | Rare Unusual Beauty |
| Hibiki | Sound, Echo |
| Hikaru | Shining Brilliance, To Shine, Radiance |
| Hina | Light, Sunlight, Sunday, Greens |
| Hiroko | Generous, Tolerant Child, Abundant, Prosperous Child |
| Hoshi | Star |
| Humiya | History, Healthy |
| Iku | Nourishing |
| Ima | Present, Now |
| Isamu | Courage, Bravery, Vigorous |
| Ito | Thread |
| Iwa | Strong, Rock |
| Izumi | Fountain, Spring |
| Jin | Tender, Benevolence, Deep |
| Jun | Moisture, Pure, Clean |
| Kaede | Maple Leaf |
| Kaiya | Forgiveness, Forgiving |
| Kaiyo | Forgiveness |
| Kameyo | Generation Of The Tortoise, Long Lived |
| Kano | Skill |
| Kaori | Scent, Aroma, Fragrance |
| Kasumi | Mist, Pure, Clear, Blossom |
| Katsumi | Victorious Beauty, Win Over Oneself |
| Kazashi | Hair Ornament |
| Kazue | Harmony, Peace, One Blessing |
| Keioko | Lucky, Blessed Child, Respectful Child |
| Kichi | One Who Is Lucky, Fortunate |
| Kiko | Be Glad, Hope |
| kimi | Beautiful, Beauty Of The Century |
| kioko | Happy Child, Meets World With Happiness |
| kiyoko | Clean, Pure, Holy Child |
| koemi | Little Laugh, Smiling |
| Koharu | Spring, Heart, Small |
| Koto | Beautiful Harp |
| kukiko | Child Of The Snow, Snow Girl |
| Kumi | Forever Beautiful, Long Time Beauty |
| Kura | Treasure House |
| Madoka | Circle, |
| Mai | Real, Genuine, Love, Affection |
| Maiko | Dance Child |
| Majime | Earnest One, Soberness |
| Mamiko | Real, Genuine, Beautiful, True Beauty |
| Manami | Love, Affection, Beauty |
| Mao | Real, True |
| Maru | Round, Circle |
| Masako | Elegant, Refined, Proper Child |
| Masumi | True Purity, Increasing Beauty |
| Matsuko | Pine Tree Child |
| Mayumi | True Beauty, Elegant Bow, True Bow, Spindle Tree |
| Mei | A Reliable Sprout, Reliant |
| Michiko | Beautiful Wise Child, Child Of Morals, Child Of Thousand Beauty |
| Midori | Green |
| Morina | Forest Town |
| Naoko | Sincere Child, Honest, Green Child |
| Nara | Happy, Flower From Heaven |
| Nariko | Gentle Child |
| Natsuko | Summer Child |
| Nisbett | Trustworthy, Dependable, Reliable |
| Nishi | From The West |
| Nobuko | Trust, Faithful Child, Belief In God, |
| Nori | Belief, Tradition, Doctrine |
| Noriko | Child Of The Ceremony, Law, Order |
| Nozomi | Hope, Wish |
| Nyoko | Gem, Treasure |
| Orino | Workers Field, Weaver's Field |
| Rei | Lovely, The Tinkling Of Jade, Beautiful |
| Reiki | Spiritual Healing |
| Reiko | Pretty Child, Gratitude |
| Reina | Wise |
| Ren | Lotus, Love, Water Lily |
| Rika | Always Strong |
| Riko | Child Of Jasmine, White Jasmine |
| Rin | Dignified, Severe |
| Rina | Jasmine Village, Park |
| Rini | Little Bunny |
| Rio | Place Of The Cherry Blossom, White Jasmine |
| Risa | Sand Of Village, Smile, Laughter |
| Ruqa | Bright Blue Flower |
| Ruri | Gemstone, Emerald |
| Ryoko | Good Child, Understanding Child, Truth |
| Sachi | Blessed Child, Child Of Bliss, Happiness |
| Sada | Pure Woman, Chaste, Pure One |
| Sadashi | Ambitious One |
| Saiua | Ripe Fruit |
| Sakae | Prosperity, Saint |
| Saki | Hope, Blossom |
| Sakiko | Blossom Child |
| Saku | Remembrance Of Lord |
| Sakura | Cherry Blossom |
| Sango | Coral |
| Saory | Nicely Woven Cloth, Beautiful Fabric |
| Satchiko | Lucky Child |
| Satoko | Wise Child, Wisdom, Enlightened |
| Satomi | Wise, Beautiful, Holy Beauty |
| Sawako | Refreshing, Sweet Child, Brilliant Child, Graceful |
| Sayaka | Clear |
| Sayuri | Small Lily |
| Seijun | Pure |
| Seika | Pure Summer, Excellent |
| Seiko | Holy Child, Blue Child, Fine Child |
| Seina | Star, Nara, Happy |
| Sejun | Pure, Very Clever |
| Sen | Wood Fairy |
| Shaiwase | Happiness, Good Fortune, |
| Shiki | The Four Seasons |
| Shinju | Pearl |
| Shinobu | Endurance, Enduring |
| Shiori | Bookmark, Guide, Poem |
| Shizu | Quite, Clear |
| Shun | Talented, Fast, Speed |
| Sora | Chirping Song Bird, Sky |
| Sorano | Heavens, Sky, Of The Sky |
| Subaru | One Who Unites |
| Suki | To Like, To Love, Beloved |
| Suzue | Branch Of Little Bells |
| Suzume | Sparrow |
| Takara | Treasure, Jewel |
| Taki | A Plunging Waterfall |
| Tamaki | Jewel Tree, Gem |
| Tamane | Sound Of A Necklace |
| Tamashii | A Soul, A Spirit |
| Tami | Let People See Benefit, Blessed People |
| Tamiko | Beautiful Child, Child Of The People |
| Tani | Stand Of Glory |
| Taura | Many Lakes |
| Toki | Full Of Hope, Time Of Opportunity |
| Tokiwa | Steady, Eternally Constant |
| Tomiju | Wealthy And Longevity |
| Tomoko | Friendly Child, Wise Child, Knowing, Intellect, Wisdom |
| Tomomi | Wisdom And Beauty |
| Tora | Tiger, Thunder |
| Toshi | Bright, Intelligent, Mirror Image |
| Tsubame | Swallow, Bird |
| Tsubasa | Wing |
| Tsuru | Long Life, Crane |
| Ume | Apricot, Plum Blossom |
| Umeko | Plum Blossom Child, Patient |
| Umi | Ocean |
| Urara | Serene, Beautiful |
| Usagi | Rabbit Of The Moon |
| Ushio | Tide, Opportunity, Salt Water |
| Uta | Song |
| Utano | Field Of Songs |
| Wakaba | Young Leaf |
| Wakana | Sweet Music |
| Wakumi | Spring Of Water |
| Wattan | From The Homeland |
| Yasu | Peace, Quite, Peaceful |
| Yasuko | Peaceful Child |
| Yo | Positive, Bright |
| Yoahino | Good, Respectful, Fertile Field |
| Yoko | Child |
| Yori | Reliable, Trustworthy |
| Yoru | Dark Fire |
| Yoshi | The Best, Good Virtuous, Good Luck |
| Yoshiko | Good, Fragrant, Child Of Joy |
| Yua | Love , Bind, Affection |
| Yui | Excellence, Gentleness, Superiority |
| Yuina | Tie, Bind |
| Yuka | Excellence, Superiority, Fragrant, Flower, Blossom |
| Yume | Dream |
| Yumi | Tenderness, Beauty, Excellent Beauty |
| Yuna | Kindness, Gentle Heart |
| Yuri | The Light Of God, Lily Flower |
Find more names for babies: Unique Baby Boy Names And Meanings, 191 Unique Baby Girl Names And Meanings, Strong boy names for babies