Como Estas?  Thinking of giving your baby a cool and elegant Spanish name is a great idea. Mexican baby names have a girl and boy pair for almost every other name. One can take a name for a girl and it is nearly the same alternative Mexican baby boy name. 
Popular Mexican Baby Boy Names
Dive into the long list of the popular Mexican boy names or Hispanic boy names first.
1)Diego Supplanter: Who That Replaces
2)Abril: To Open
3)Alejandro: Defender, Protector Of Mankind, Warrior, Guardian, Helper
4)Eli: The Offering, Lifting Up
5)Emiliano: Rival
6)Jordan: One Who Descends
7)Kimberly: From The Wood Of The Royal Forest
8)Nevada: Snowy, Snow-Covered
9)Rio: River, Place Of The Cherry Blossoms
10)Simon: One Who Has Heard
11)Abelardo: Noble And Strong
12)Adonis: Extremely Good Looking, Handsome
13)Alan: Handsome, Noble
14)Alexander: Defender Of Mankind
15)Angel: Messenger Of God
16)Anthony: Priceless, Inestimable, Praiseworthy
17)Antonio: Highly Praise Worthy, Beyond Praise
18)Arturo: Strong As A Bear, Bear Man
19)Augustin: Deserving Of Respect, Venerable
20)Benjamin: Son Of The Right Hand, Son Of My Old Age
21)Bruno: Shield, Armor, Protection
22)Camilo:Temple Servant, Noble, Free Born Child
23)Carlos: Manly, Full Grown
24)Christopher: One Who Bears Christ
25)Cruz: The Cross Of The Christ
26)Dacio: From Dacia
27)Damario: Gentle
28)Damian: To Tame
29)Dan: God Is My Judge
30)Daniel: God Is My Judge
31)Dario: Rich, Possessor Of Good
32)David: Beloved, Friend
33)Demetrio: Earth Lover
34)Desi: Sorrow, Yearning, Desired
35)Dylan: Son Of The Sea, Son Of The Waves, Born From The Ocean
36)Edgardo: Protector Of Prosperity
37)Edmundo: Wealthy Protector, Fortunate Protector
38)Eduardo: Wealthy Or Fortunate Guardian, Protector
39)Efrain: Doubly Fruitful, Productive
40)Eleuterio: Free
41)Eloy: Selection, Chosen One
42)Emilio: Rival
43)Enrique: Home Ruler, Powerful Ruler Of The Home
44)Esteban: Garland Crown, Crown Of Victory
45)Everardo: Brave, Hardy, Strong
46)Fabiano: Bean Grower
47)Facundo: Significant
48)Fausto: Lucky, Fortunate One
49)Federico: Peaceful Ruler
50)Felipe: Horse Lover
51)Felix: Happy, Fortunate
52)Fernando: Courageous, Adventurer, Conqueror, Leader, Bold Journey
53)Fidel: Faithful
54)Fortunato: Fortunate, Blessed, Happy
55)Francisco: Free Man
56)Gabriel: Hero Of God
57)Gaspar: Treasure
58)Gaston: The Foreigner, The Guest
59)Geraldo: Super Ruler
60)Gerardo: Hardy, Brave
61)Geronimo: Holy Name, Sacred Name
62)Gervasio: Warrior
63)Gilberto: Pledge, Hostage, Bright, Famous
64)Godofredo: Friend Of God
65)Gonzalo: Saved From Combat, Fight
66)Gustavo: Staff Of The Gates
67)Gutierrez: One Who Rules
68)Hector: Holding Fast
69)Heliodoro: Gift Of The Sun
70)Heriberto: Shining Warrior
71)Hernando: Adventurous, Courageous Traveler
72)Hilario: Happy, Cheerful
73)Horatio: Time Keeper
74)Hugo: Mind, Spirit
75)Ignacio: Fiery
76)Ildefonso: Battle Ready
77)Inigo: Fierce
78)Isaac: He Who Laughs, One Who Is Happy
79)Isaias: God Is Salvation, Salvation Of The Lord
80)Isidro: Gifted With Many Ideas
81)Jacobo: Supplanter
82)Jairo: Jehovah Enlightens
83)Javier: Bright
84)Javier: New House, Bright
85)Jeronimo: Sacred Name
86)Joaquin: Established By God
87)Jonathan: God Has Given, God's Gift
88)Jorge: Farmer, Earth Worker
89)Jose: May God Add, May God Give Increase
90)Juan: God Is Gracious, God Is Giving
91)Julian: Youthful
92)Julio: Soft Haired, Youthful
93)Kevin: Handsome By Birth
94)Lalo: Rich Guardian
95)Lazaro: God's Help
96)Lucas: Light
97)Manuel: God With Us
98)Marco: God Of War, Virile
99)Maximo: The Greatest
100)Michelle: Like God
101)Miguel: One Who Resembles God, Responsible For Carrying Out God's Judgment
102)Nicolas: Victorious People, Victory Of The People
103)Oscar: Little Dear, God's Spear, Beloved Of Dear
104)Pablo: Small, Humble, Little
105)Pedro: Stone, Rock
106)Raphael: God Is Healer, God Has Healed
107)Raul: Counsel Of Wolf
108)Ricardo: Hardy, Powerful Leader
109)Roberto: Famed, Bright, Shining
110)Salome: Peace
111)Samuel: Name Of God, God Heard
112)Santino: Little Saint, Sacred Saint
113)Sergio: Servant, Soldier, Attendant
114)Teodora: Gift From God
115)Thiago: Supplanter
116)Tomas: Twin
117)Vicente: Conquering, Winning
1) Diego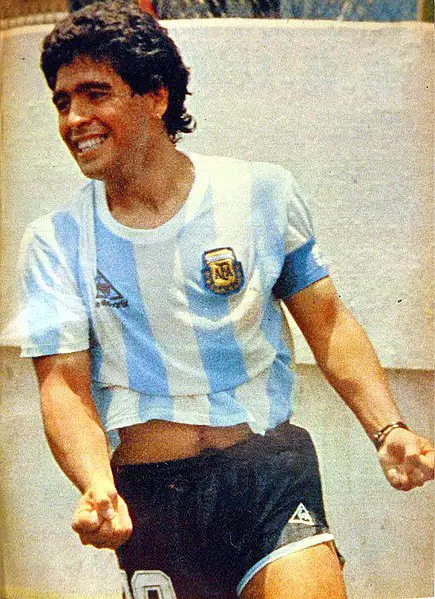 Some believe that Diego has been derived from Santiago, while other research suggests that it originated from the Latin word Didacus which in turn may have been derived from Greek word Didache which means teaching. Diego means supplanter has been famous by the football legend – Diego Maradona. Other famous personalities with the same name are Diego Forlán (Soccer/Football), Diego Costa (Soccer/Football), Diego Rivera (Famous Mexican artist). This name is quite famous among football players. 
2) Alejandro
Alejandro is the Spanish version of the name Alexander. It is pronounced as aa-lai-hAAn-d r oh. Alexander was a famous King of Macedon who conquered Greece, Persia, and Egypt. The name is derived from the Greek word Alexandros meaning defending men. Alexandros is a combination of two words Alex which means "to defend" and aner which means "man".
3) Jordan
The name is one of the biggest gem in history of sports being the second name of Michael Jordan. Deriving its roots from Hebrew the name is symbolic of strength and diligence. Jordan Belfort has been another major personality who did have a shady career life but is a man of wealth and tact. Now an American author and motivational speaker is considered the pioneer in his field. Jordan Peterson is a renowned psychologist and philosopher. His books and theory about neo-Marxism has been widely recognised.
4) Simon
The Guardian and The Mentalist lead actor Simon Baker whose an Australian has got popularity for the name again. British talent shows desirable jury member, Simon Cowell who has judged The X Factor and Britain's Got Talent series is no less famous. Star Trek and Shaun of The Dead actor, Simon Pegg is also a screenwriter and producer. Simon Bolivar was a strategic militant who was the President of Second Republic of Venezuela. Another famous person with the name Simon is the Welsh cricketer Simon Philip Jones. 
5) Augustin
Augustin Louis Cauchy was a French mathematician best known for his theories continuum mechanics. Pioneer physicist who gave a counter to Newton by his wave theory of light was Augustin Fresnel. Actors such as Augustin Galiana and Augustin Gonzalez have made the name trending amongst their fan base. Saint Augustin of Hippo, was the biggest Roman African philosopher, shaping the Western Christianity and theory.
6) Benjamin
You might not even need an introduction to famous men who share the name Benjamin. The list inevitably begins with Benjamin Franklin who investigated electricity, the most essential component of our lives. However, less people know about his role in the political context of United States of America. He drafted the US Constitution and Declaration of Independence. Benjamin Mendy the French footballer of Manchester United team gets the name a sporty spirit too. If you want your child to become a Diplomat of political dignitarie, Benjamin Netanyahu the Prime Minister of Israel can be your source of inspiration.
7) Christopher
Christopher Nolan is the second name that strikes immediately after Christopher Columbus when you read this name. Nolan is the critically acclaimed director and film producer of this century who gave movies like Inception starring Leonardo DiCaprio. Tech savy modern day parents know the Marshmallow DJ. His real name is Christopher Comstock. Marvel Endgame mania hasn't end and Christopher Evans – Captain America is the favorite celeb to share your baby's name with.
8) Daniel
Harry Potter – Daniel Radcliffe, the less you say about him the better it'd sound. The first name is enough to prove that this name has been an evergreen vogue. But if you're not a Harry Potter fan then the edgy Daniel Craig – James Bond must get you excited. Korean show or rock concerts fans heart Daniel Padilla!
9) David
Beckham is the word you say next with David. Love cricket more than football? We've got the Aussie cricketer David Warner the first to be a part of national team from his continent. Fan of GOT? David Benioff is the producer and writer as we all know. Want your babe to become a business tycoon take some inspo from David Koch the co-owner of the second largest private US Company and the world's 12th richest man!
10) Eloy
Soccer player Eloy salgado, American Boxer Eloy Perez, and footballer Eloy room share the Mexican name. Eloy Casagrande from Brazil is a pop drummer known for his various heavy metal performances.
11) Felix
PewDiePie the biggest YouTube sensational star has the birth name Felix Arvid Ulf Kjellberg. With over 95.5 million subscribers he has been the most followed YouTube celeb. If you want your baby boy to be a risk bearer and adventure enthusiast read about Felix Baumgartner. He jumped to earth from a helium balloon and came down landing in Mexico. Adrenaline racing already? He also broke the skydiving records and served in Austrian military.
12) Gabriel
Suits star Gabriel Macht was also the producer of the 3 early seasons of the television series starring the Duchess of Sussex – Meghan Markle. Love stand-up comedians for their sass? Gabriel Jesus Iglesias also known as Fluffy, the American comedian always has houseful shows.
13) Hugo
French poets are the best of literary men. Hugo Victor the French poet who wrote The Hunchback Of Noterdam is a classic name and personality to look up to. The retired Colombian General, Hugo Martinez headed critical missions cracking down drug mafias. Hugo Sanchez Marquez is the greatest Mexican footballer ever. 
Common Mexican Baby Girl Names
Now, some of the cutest Mexican girl names or Hispanic girl names.
1) Abril: To Open
2) Adelita: Kind, Winged, Nobility, Noble
3) Adonia: Lord Is My God
4) Aitana: Strong As A Mountain
5) Alexa: Defender Of Men, To Defend
6) Alma: Kind, Nourishing, Fostering
7) Alvera: Truth Speaking
8) Andres: Strong, Brave, Hardy
9) Araceli: Altar Of Heaven
10) Belicia: Dedicated To God
11) Blanca: White, Shining, Fair
12) Candela: Candle
13) Carolina: Free Man, Strong
14) Catalina: Pure
15) Consejo: Advisor, Counselor
16) Dalia: National Flower Or Mexico
17) Damita: Baby Princess
18) Deborah: Bee
19) Delfina: Dolphin, A Native Of Delphi
20) Desideria: Desired
21) Diana: Devine
22) Edelmira: Woman Of Nobility
23) Elba: Dawn
24) Elena: Bright Shining Light, Light Bearer
25) Eli: The Offering, Lifting Up
26) Eliana: God Has Answered, Daughter Of The Sun
27) Eligia: To Choose, Chosen One
28) Elisa: Consecrated To God
29) Elizabeth: God Is My Oath, Pledge To God
30) Elvira: Truth, White, Beautiful
31) Ema: Beloved, Lovable
32) Esmeralda: Emerald, Deep Green Color , Beautiful Gem Stone
33) Estella: Star
34) Evita: Living One, Life, Lively
35) Fanny: Free
36) Felicia: Happy, Happy Times, Lucky, Good Fortune
37) Felicidad: Happiness
38) Felisa: Happy
39) Fernanda: (Female Of Fernando) Adventurous, Bold Journey
40) Filomena: Friend Of Strength, Friend, Lover
41) Fiona: Fair, White, Clear
42) Fiorella: Little Flower
43) Flavia: Golden, Blond
44) Flora: Flower, Goddess Of Flower Or Spring
45) Florencia: Blooming, Flourishing, Prosperous
46) Florina: Little Flower
47) Floro: Lioness Of God
48) Fortunata: Luck, Faith, Wealth
49) Francisca: Free One
50) Gemma: Gem, Jewel, Precious Stone
51) Genoveva: White Phantom
52) Georgina: Tiller Of The Soil, Farmer
53) Gertrudis: Spear
54) Giselle: Pledge, To Owe
55) Gloria: Glory
56) Gracia: Grace, Kindness, Mercy
57) Guadalupe: Valley Of Wolf, River Of Black Stone
58) Herminia: Lady Of The Earth
59) Hilda: Battle Woman
60) Hortensia: Gardner
61) Ida: Hardworking, Prosperous, Happy
62) Idoya: Pond
63) Iliana: Ray Of Light, Personification Of Beauty
64) Imelda: Warrior Woman, Universal Battle, Powerful Fighter
65) Ines: Pure, Holy
66) Inma: God Is With Us
67) Irene: Peace, Greek Goddesses Of Peace
68) Iris: Iris Flower
69) Irma: Universal
70) Isabel: Pledge To God, God Is My Oath
71) Isaura: Gentle Breeze
72) Isidora: Gift Of The Goddess
73) Itzel: Rainbow Lady
74) Ivanna: God's Gift, God Is Gracious
75) Jazmin: Climbing Flower
76) Jennifer: White Wave, Fair Lady
77) Jenny: White Wave
78) Jessica: God Beholds, Rich
79) Jimena: One Who Hears
80) Jimena: Listener, Heard
81) Jordan: One Who Descends
82) Josefa: God Shall Add, He Will Enlarge
83) Josephine: God Shall Grow
84) Jovita: Jovial, Happy
85) Juana: God Is Gracious, God Is Giving
86) Juanita: God Is Gracious, God's Gift
87) Judith: She Will Be Praised
88) Julia: Youthful, Young
89) Kimberly: From The Wood Of The Royal Forest
90) Lara: Protection, Cheerful
91) Laura: Favorable
92) Laurita: Honor And Victory
93) Leticia: Gladness, Happiness, Full Of Happiness And Joy
94) Lola: Lady Of Sorrows
95) Loretta: Praise Of Worthy, Bay Laurel Symbolic Of Honor And Victory, Saints Name,
96) Luisa: Fame And War, Renowned Warrior
97) Magdalena: Woman From Mandala
98) Maite: Lovable, One Who Is Loved Dearly, Beloved
99) Margarita: Pearl, Pretty Blossom
100) Maria: Sea Of Bitterness, Rebellion, Mistress , Lady Of The Sea
101) Mercedes: Merciful, Compassionate
102) Micaela: Gift From God
103) Milagros: Our Lady Of Miracles, Wonder
104) Natalia: Christmas Day
105) Nevada: Snowy, Snow Covered
106) Olivia: Olive Tree
107) Paloma: Dove, Peaceful, Holy Spirit
108) Paula: Small
109) Piedad: Pious, Merciful, Compassionate
110) Ramona: Wise Defender
111) Rio: River, Place Of The Cherry Blossoms
112) Rocio: Dew Drops
113) Roja: Red, Bright
114) Romina: Christian Land
115) Rosamaria: Rose, Pink, Princess Name
116) Seneca: People Of The Standing Rock, People Of The Great Hill
117) Sesasi: Pretty
118) Sierra: Saw-Toothed
119) Silvia: Spirit Of The Wood, From The Woods
120) Simon: One Who Has Heard
121) Sofia: Wisdom, Intelligence
122) Soledad: Solitude
123) Soona: Moon
124) Teresa: Harvester, Reap, To Gather In
125) Valentina: Strong, Healthy, Strength
126) Valeria: To Be Strong, Brave
127) Veronica: She Who Brings To Victory, True Image
128) Violeta: Violet, Purple
129) Yesenia: Flora, Beautiful Flower, Resembling A Flower
130) Ynez: Pure
131) Yvette: God Is Merciful
| Name | Meaning |
| --- | --- |
| Abril | To Open |
| Adelita | Kind, Winged, Nobility, Noble |
| Adonia | Lord Is My God |
| Aitana | Strong As A Mountain |
| Alexa | Defender Of Men, To Defend |
| Alma | Kind, Nourishing, Fostering |
| Alvera | Truth Speaking |
| Andres | Strong, Brave, Hardy |
| Araceli | Altar Of Heaven |
| Belicia | Dedicated To God |
| Blanca | White, Shining, Fair |
| Candela | Candle |
| Carolina | Free Man, Strong |
| Catalina | Pure |
| Consejo | Advisor, Counselor |
| Dalia | National Flower Or Mexico |
| Damita | Baby Princess |
| Deborah | Bee |
| Delfina | Dolphin, A Native Of Delphi |
| Desideria | Desired |
| Diana | Devine |
| Edelmira | Woman Of Nobility |
| Elba | Dawn |
| Elena | Bright Shining Light, Light Bearer |
| Eli | The Offering, Lifting Up |
| Eliana | God Has Answered, Daughter Of The Sun |
| Eligia | To Choose, Chosen One |
| Elisa | Consecrated To God |
| Elizabeth | God Is My Oath, Pledge To God |
| Elvira | Truth, White, Beautiful |
| Ema | Beloved, Lovable |
| Esmeralda | Emerald, Deep Green Color , Beautiful Gem Stone |
| Estella | Star |
| Evita | Living One, Life, Lively |
| Fanny | Free |
| Felicia | Happy, Happy Times, Lucky, Good Fortune |
| Felicidad | Happiness |
| Felisa | Happy |
| Fernanda | (Female Of Fernando) Adventurous, Bold Journey |
| Filomena | Friend Of Strength, Friend, Lover |
| Fiona | Fair, White, Clear |
| Fiorella | Little Flower |
| Flavia | Golden, Blond |
| Flora | Flower, Goddess Of Flower Or Spring |
| Florencia | Blooming, Flourishing, Prosperous |
| Florina | Little Flower |
| Floro | Lioness Of God |
| Fortunata | Luck, Faith, Wealth |
| Francisca | Free One |
| Gemma | Gem, Jewel, Precious Stone |
| Genoveva | White Phantom |
| Georgina | Tiller Of The Soil, Farmer |
| Gertrudis | Spear |
| Giselle | Pledge, To Owe |
| Gloria | Glory |
| Gracia | Grace, Kindness, Mercy |
| Guadalupe | Valley Of Wolf, River Of Black Stone |
| Herminia | Lady Of The Earth |
| Hilda | Battle Woman |
| Hortensia | Gardner |
| Ida | Hardworking, Prosperous, Happy |
| Idoya | Pond |
| Iliana | Ray Of Light, Personification Of Beauty |
| Imelda | Warrior Woman, Universal Battle, Powerful Fighter |
| Ines | Pure, Holy |
| Inma | God Is With Us |
| Irene | Peace, Greek Goddesses Of Peace |
| Iris | Iris Flower |
| Irma | Universal |
| Isabel | Pledge To God, God Is My Oath |
| Isaura | Gentle Breeze |
| Isidora | Gift Of The Goddess |
| Itzel | Rainbow Lady |
| Ivanna | God's Gift, God Is Gracious |
| Jazmin | Climbing Flower |
| Jennifer | White Wave, Fair Lady |
| Jenny | White Wave |
| Jessica | God Beholds, Rich |
| Jimena | One Who Hears |
| Jimena | Listener, Heard |
| Jordan | One Who Descends |
| Josefa | God Shall Add, He Will Enlarge |
| Josephine | God Shall Grow |
| Jovita | Jovial, Happy |
| Juana | God Is Gracious, God Is Giving |
| Juanita | God Is Gracious, God's Gift |
| Judith | She Will Be Praised |
| Julia | Youthful, Young |
| Kimberly | From The Wood Of The Royal Forest |
| Lara | Protection, Cheerful |
| Laura | Favorable |
| Laurita | Honor And Victory |
| Leticia | Gladness, Happiness, Full Of Happiness And Joy |
| Lola | Lady Of Sorrows |
| Loretta | Praise Of Worthy, Bay Laurel Symbolic Of Honor And Victory, Saints Name, |
| Luisa | Fame And War, Renowned Warrior |
| Magdalena | Woman From Mandala |
| Maite | Lovable, One Who Is Loved Dearly, Beloved |
| Margarita | Pearl, Pretty Blossom |
| Maria | Sea Of Bitterness, Rebellion, Mistress , Lady Of The Sea |
| Mercedes | Merciful, Compassionate |
| Micaela | Gift From God |
| Milagros | Our Lady Of Miracles, Wonder |
| Natalia | Christmas Day |
| Nevada | Snowy, Snow Covered |
| Olivia | Olive Tree |
| Paloma | Dove, Peaceful, Holy Spirit |
| Paula | Small |
| Piedad | Pious, Merciful, Compassionate |
| Ramona | Wise Defender |
| Rio | River, Place Of The Cherry Blossoms |
| Rocio | Dew Drops |
| Roja | Red, Bright |
| Romina | Christian Land |
| Rosamaria | Rose, Pink, Princess Name |
| Seneca | People Of The Standing Rock, People Of The Great Hill |
| Sesasi | Pretty |
| Sierra | Saw-Toothed |
| Silvia | Spirit Of The Wood, From The Woods |
| Simon | One Who Has Heard |
| Sofia | Wisdom, Intelligence |
| Soledad | Solitude |
| Soona | Moon |
| Teresa | Harvester, Reap, To Gather In |
| Valentina | Strong, Healthy, Strength |
| Valeria | To Be Strong, Brave |
| Veronica | She Who Brings To Victory, True Image |
| Violeta | Violet, Purple |
| Yesenia | Flora, Beautiful Flower, Resembling A Flower |
| Ynez | Pure |
| Yvette | God Is Merciful |
| Name | Meaning |
| --- | --- |
| Diego | Supplanter, Who That Replaces |
| Abril | To Open |
| Alejandro | Defender, Protector Of Mankind, Warrior, Guardian, Helper |
| Eli | The Offering, Lifting Up |
| Emiliano | Rival |
| Jordan | One Who Descends |
| Kimberly | From The Wood Of The Royal Forest |
| Nevada | Snowy, Snow Covered |
| Rio | River, Place Of The Cherry Blossoms |
| Simon | One Who Has Heard |
| Abelardo | Noble And Strong |
| Adonis | Extremely Good Looking, Handsome |
| Alan | Handsome, Noble |
| Alexander | Defender Of Mankind |
| Angel | Messenger Of God |
| Anthony | Priceless, Inestimable, Praiseworthy |
| Antonio | Highly Praise Worthy, Beyond Praise |
| Arturo | Strong As A Bear, Bear Man |
| Augustin | Deserving Of Respect, Venerable |
| Benjamin | Son Of The Right Hand, Son Of My Old Age |
| Bruno | Shield, Armor, Protection |
| Camilo | Temple Servant, Noble, Free Born Child |
| Carlos | Manly, Full Grown |
| Christopher | One Who Bears Christ |
| Cruz | The Cross Of The Christ |
| Dacio | From Dacia |
| Damario | Gentle |
| Damian | To Tame |
| Dan | God Is My Judge |
| Daniel | God Is My Judge |
| Dario | Rich, Possessor Of Good |
| David | Beloved, Friend |
| Demetrio | Earth Lover |
| Desi | Sorrow, Yearning, Desired |
| Dylan | Son Of The Sea, Son Of The Waves, Born From The Ocean |
| Edgardo | Protector Of Prosperity |
| Edmundo | Wealthy Protector, Fortunate Protector |
| Eduardo | Wealthy Or Fortunate Guardian, Protector |
| Efrain | Doubly Fruitful, Productive |
| Eleuterio | Free |
| Eloy | Selection, Chosen One |
| Emilio | Rival |
| Enrique | Home Ruler, Powerful Ruler Of The Home |
| Esteban | Garland Crown, Crown Of Victory |
| Everardo | Brave, Hardy, Strong |
| Fabiano | Bean Grower |
| Facundo | Significant |
| Fausto | Lucky, Fortunate One |
| Federico | Peaceful Ruler |
| Felipe | Horse Lover |
| Felix | Happy, Fortunate |
| Fernando | Courageous, Adventurer, Conqueror, Leader, Bold Journey |
| Fidel | Faithful |
| Fortunato | Fortunate, Blessed, Happy |
| Francisco | Free Man |
| Gabriel | Hero Of God |
| Gaspar | Treasure |
| Gaston | The Foreigner, The Guest |
| Geraldo | Super Ruler |
| Gerardo | Hardy, Brave |
| Geronimo | Holy Name, Sacred Name |
| Gervasio | Warrior |
| Gilberto | Pledge, Hostage, Bright, Famous |
| Godofredo | Friend Of God |
| Gonzalo | Saved From Combat, Fight |
| Gustavo | Staff Of The Gates |
| Gutierrez | One Who Rules |
| Hector | Holding Fast |
| Heliodoro | Gift Of The Sun |
| Heriberto | Shining Warrior |
| Hernando | Adventurous, Courageous Traveler |
| Hilario | Happy, Cheerful |
| Horatio | Time Keeper |
| Hugo | Mind, Spirit |
| Ignacio | Fiery |
| Ildefonso | Battle Ready |
| Inigo | Fierce |
| Isaac | He Who Laughs, One Who Is Happy |
| Isaias | God Is Salvation, Salvation Of The Lord |
| Isidro | Gifted With Many Ideas |
| Jacobo | Supplanter |
| Jairo | Jehovah Enlightens |
| Javier | Bright |
| Javier | New House, Bright |
| Jeronimo | Sacred Name |
| Joaquin | Established By God |
| Jonathan | God Has Given, God's Gift |
| Jorge | Farmer, Earth Worker |
| Jose | May God Add, May God Give Increase |
| Juan | God Is Gracious, God Is Giving |
| Julian | Youthful |
| Julio | Soft Haired, Youthful |
| Kevin | Handsome By Birth |
| Lalo | Rich Guardian |
| Lazaro | God's Help |
| Lucas | Light |
| Manuel | God With Us |
| Marco | God Of War, Virile |
| Maximo | The Greatest |
| Michelle | Like God |
| Miguel | One Who Resembles God, Responsible For Carrying Out God's Judgment |
| Nicolas | Victorious People, Victory Of The People |
| Oscar | Little Dear, God's Spear, Beloved Of Dear |
| Pablo | Small, Humble, Little |
| Pedro | Stone, Rock |
| Raphael | God Is Healer, God Has Healed |
| Raul | Counsel Of Wolf |
| Ricardo | Hardy, Powerful Leader |
| Roberto | Famed, Bright, Shining |
| Salome | Peace |
| Samuel | Name Of God, God Heard |
| Santino | Little Saint, Sacred Saint |
| Sergio | Servant, Soldier, Attendant |
| Teodora | Gift From God |
| Thiago | Supplanter |
| Tomas | Twin |
| Vicente | Conquering, Winning |
Follow these links for more cute baby boy and girl names: