Blessed with a baby girl? 😍
Then I am sure you must be searching for the most romantic and feminine girl names!
If you are gifted with a baby girl, believe me, you are the luckiest. Finding a perfect, cute and lovely name for your little angel might not be easy.
When your child arrives in the world one of the ways through which you can show your happiness and love is by giving her a beautiful name.
Parents choose romantic names nowadays because they sound new and unique. They seldom go out-of-fashion! 
Romantic and feminine names are often long and will they have 3 to 5 syllables. These names mostly end with "ia", "ine", "ana", "ella" or "ette".
These names may be traditional, historical, modern day love names or they may also become the names of tragic romantic heroines. Name is the identity of the person it can also decide the character of an individual.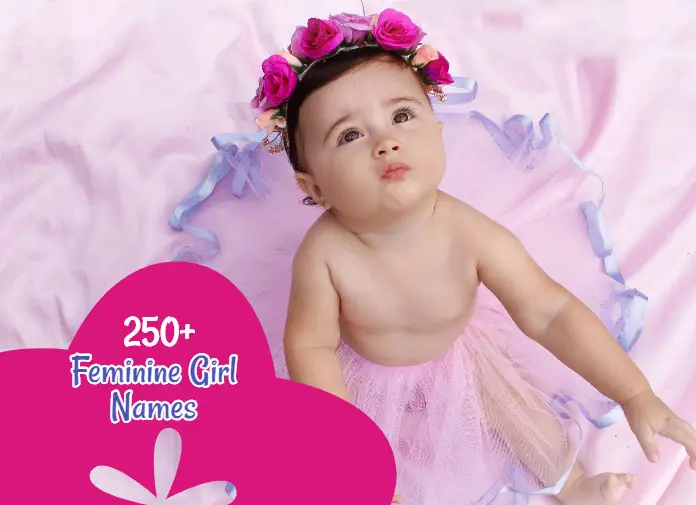 There are plenty of names from Shakespeare and classic literature. Sone names evoke the beauty of the natural world. You can also refer flower, gems and celebrity names to get a perfect name for your little one. These names are not usually overused, are classic and easier to pronounce.
Romantic and feminine girl names are usually derived from French or Italian languages. They may also be inspired by nature.
These may sound like a little ring music or they may also be short. These romantic cute names which have been passed from generation to generation never fail to win people's heart.
If you find yourself more interested in romantic and feminine names then here is a list of some of the cutest and romantic feminine names to help you choose the best one.
European Romantic names for girls
Adriana: Sounds very graceful right? It is the feminine form of Adrien, which is from the Latin word Adriānus. Adriana Lima is one of the most sought-after models and a Victoria's Secret Angel.


Alessandra: This is also a very famous name. In fact, another Brazilian model is named Alessandra Ambrosio.

Arabella: Is from 'orabilis' which means yielding to prayer. Apt name for your cute baby girl!
Arielle: Is an angel found primarily in Jewish and Christian mythologies. Arielle means the "lion of God." It can be used for both girls and boys. A famous US actress goes by the name of 'Arielle Vandenberg'.

Bella: It is a very popular name and often added to names such as Annabella. Bella Hadid is a famous personality and a model.

Carolina
Caroline: Means joy. 
Catherine: This name quite popular with many variants such as Katherine. It is a classic name. Catherine Zeta‑Jones is one famous Bollywood actress who adorns this name. 
Celine: means moon. Celine Dion is a famous pop star most famous for her Titanic song.  
Colette
Desiree
Dominica
Dominique
Elisabetta
Elise
Emiliana
Esmeralda
Florence
Francesca
Genevieve
Juliette
Lucia
Marguerite
Marianna
Noelle
Vienna
Violette
Some more cute and romantic names for girls
Angelina
Magdalena
Genevieve
Seraphina
Tatiana
Adelaide
Lillian
Makayla
Brianna
Valentina
Giuliana
Anastasia
Evangelina
Romantic Flower names for girls
Rose
Tulip
Bluebell
Alyssum
Calla
Chrysanthemum (or shorten to Chrysann)
Iris
Holly
Fern
Dahlia
Danica
Dianthus
Hyacinth
Ivy
Jasmine
Lilac
Lily
Leilani
Marigold
Violet
Zahra
Petunia
Popular Feminine Girl Names
Alexandra
Alicia
Alyssa
Amelia
Audrey
Brianna
Brooke
Brooklyn
Charlotte
Chloe
Courtney
Delilah
Elena
Elizabeth
Ella
Ellie
Emilia
Emma
Emily
Eva
Evelyn
Gabriella
Grace
Hailey
Isabella
Isla
Ivy
Jade
Jessica
Julia
Juliana
Layla
Lucy
Luna
Madelyn
Maisie
Maria
Maya
Mia
Mila
Nadia
Natalie
Norah
Olivia
Penelope
Pixie
Ruby
Scarlett
Serenity
Skylar
Sophia
Stella
Whitney
Zoe
Romantic Names inspired by nature
Aurora
Bryony
Camellia
Celestia
Dahlia
Daisy
Eden
Hazel
Heather
Holly
Iris
Jasmine
Laurel
Lavender
Lillia
Lillian
Lily
Meadow
Primrose
Rayne
Rosalind
Rose
Selena
Summer
Willow
Zinnia
Unique Girl Names
Ambrosia
Adie
Alaina
Allesandra
Amara
Anastacia
Annabelle
Aubrianna
Audrianna
Aurelie
Ayla
Belladonna
Birdie
Bonita
Bree
Briella
Calliope
Camilla
Carmella
Cicely
Clea
Clementine
Cora
Corinna
Cosette
Emmaline
Evangelina
Evangeline
Everly
Guienevere
Gwendolyn
Isadora
Jayla
Jessamyn
Juniper
Kalilah
Krissy
Leilani
Leticia
Linnea
Lisette
Luciana
Lyric
Magdelena
Michelina
Mirabel
Myla
Nicoletta
Paloma
Raphela
Rayna
Saffron
Seraphina
Shirina
Siran
Tinsley
Tula
Vera
Zara
Zuri
Cute Names Inspired by Hollywood
Aaliyah
Angelina
Aria
Ariana
Ava
Callista
Cara
Estelle
Felicity
Helena
Ireland
Keira
Kylie
Marilyn
Presley
Sabrina
Saoirse
Serena
Tallulah
More cute and fancy Girl Names
Alanna
Cassandra
Clarissa
Elaina
Felicia
Gemma
Georgia
Gracie
Jacqueline
Josephine
Louisa
Lorelai
Lydia
Madeline
Melissa
Olive
Roxanna
Sabrina
Talya
Tatiana
Theresa
Vanessa
Valerie
Victoria
Names on romantic destinations
Paris
London
Venice
Brazil
Ireland
Tuscany
York (after New York)
Angela (after Los Angeles)
Dominica (Dominican Republic)
Athena (after Athens)
Maui
Monaco
Lucia (after St. Lucia)
Names for girls which means love
Amor: Spanish name
Amora: Spanish name
Carys: Welsh name
Grania: Celtic
Mina: German
Prema: Indian name meaning "love" in Sanskrit
Tivona: Hebrew name meaning "love's nature"
Cheryl: Welsh name
Grania: Irish name
Maitea: Spanish name
Grace: Irish name
Philomena: Greek name meaning "greatly loved"