Trending Strong Boy Names
Strong boy names have always been popular. Dotting fathers love to give their sons a name that signifies strength and valor.
Coming from the gender scan or even guessing your baby to be a boy brings a lot of adrenaline rush in dads for making him a tough guy like him. At least like what he thinks he is! Right mommas? 😉 
The arduous journey of making your wriggly baby into a soldier of life begins with selecting the name! An influential name signifying strength and valor is the first ingredient in this master mix.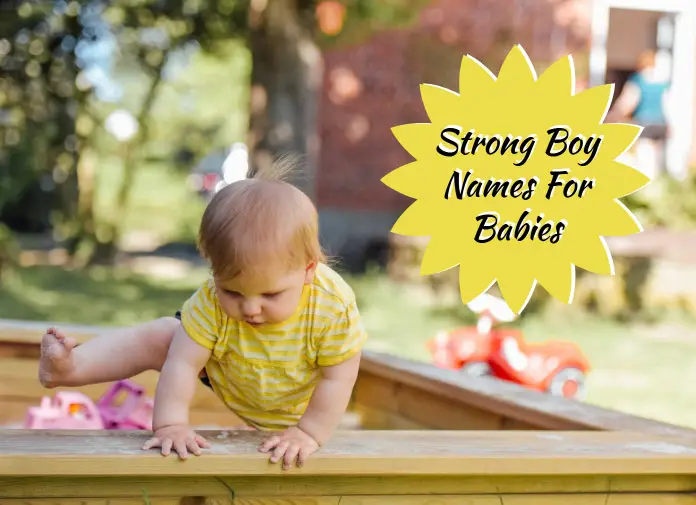 So, moving straight to the main thing you're here for…
We have an authoritative list of strong baby boy names. We're sure you'll find a gem for your LO!
1) Aaron: (Hebrew) Exalted, Enlightened, Lofty
2) Abraham: (Hebrew) Father Of Many Nations
3) Adolf: (Danish) Noble Wolf, Majestic Wolf
4) Agustin: (Spanish) Majestic Dignity, Grandeur, Great
5) Aiden: (Irish) Little Fire, Fiery
6) Alaric: (German) Noble Ruler, All Powerful Ruler
7) Albert: (German) Noble, Bright, Famous
8) Alexander: (Greek) Defender Of Mankind, Helper
9) Alistair: (Greek) Man's Defender, Defender Of Mankind
10) Amaury: (German) Bravery And Power, Work Ruler
11) Amell: (German) Power Of An Eagle
12) Amell: (German) Power Of An Eagle
13) Amory: (English) Brave, Powerful, Leader
14) Anders: (Scandinavian) Manly, Strong, Warrior
15) Andreas: (Greek) Strong, Manly
16) Andrew: (English) Manly, Masculine
17) Angus: (English) One, Choice, One Strength
18) Anthony: (Latin) Highly Praiseworthy, Priceless
19) Anton: (Roman) Priceless, Inestimable Worth
20) Aristotle: (Greek) The Best Of All, Superior
21) Armstrong: (English) One With A Strong Arm
22) Arnold: (English) Eagle Power, The Eagle Rule
23) Arsenio: (Greek) Manly, Strong, Virile
24) Arsenio: (Greek) Masculine, Strong, Virile
25) Asher: (Hebrew) Happy, Blessed, Fortunate
26) Avi: (Hebrew) Father Of Multitudes
27) Aza: (Arabic) Powerful, Strong
28) Azai: (Hebrew) Strength, Strong
29) Aziel: (Hebrew) The Lord Is My Strength
30) Barack: (Arabic) Blessing, Lighting
31) Barin: (Teutonic) Noble Fighter
32) Barrett: (German) Bear Strength
33) Beau: (French) Handsome, Dandy
34) Benjamin: (Hebrew) Son Of My Old Age
35) Bernard: (German) Bold, Brave, Hardy
36) Bishop: (English) High Ranking Member Of The Clergy
37) Bjorn: (Scandinavian) Bear
38) Boris: (Russian) Fighter, Fight
39) Brenden: (Welsh) Prince
40) Cadman: (English) Warrior, Fighter
41) Cadmar: (Greek) Brave Warrior
42) Caelan: (Irish) Powerful Warrior, People Of Victory
43) Caleb: (Hebrew) Faithful, Trustworthy
44) Camilo: (Latin) Helper To The Priest
45) Carter: (English) One Who Transports Goods
46) Cayden: (Gaelic) Battler, Fighter
47) Chad: (Welsh) Battle
48) Channing: (Irish) Young Wolf
49) Christopher: (Greek) Carrie Of Christ
50) Coen: (Dutch) Bold Advisor
51) Conal: (Irish) High And Mighty
52) Dangelo: (Italian) Devine Messenger, Messenger Of God
53) Daniel: (Hebrew) God Is My Judge
54) Denzel: (Cornish) One Who Is From The High Stronghold
55) Dirk: (Danish) People Ruler
56) Dominique: (Latin) Belonging To A Lord, A Master
57) Donovan: (Irish) Little Dark Prince
58) Duetrich: (German) Ruler Of The People,
59) Duke: (English) Leader Of Men,
60) Dustin: (English) Brave Fighter, Valiant Fighter
61) Dwayne: (Irish) Dark, Black, Little Dark One
62) Dylan: (Welsh) Son Of The Wave, Born Near The Sea, Influence
63) Eason: (Irish) Protector
64) Edric: (English) Wealthy Ruler
65) Edward: (English) Wealthy Or Fortunate Guardian
66) Egon: (German) Strong With A Sword
67) Ekon: (African) Strong
68) Eli: (Hebrew) High, Elevated
69) Emeric: (Teutonic) Ruler, Leader
70) Emmet: (Hebrew) Universal, Truth, Entire, Whole
71) Emory: (English) Home Strength, Industrious Leader, Head Of The Household
72) Ernest: (German) Serious, Battle To The Death
73) Ethan: (Hebrew) Firm, Strong And Long Lived
74) Evander: (Scottish) Bow Warrior, Strong Man
75) Everett: (English) Wild Boar, Strong, Brave, Hearty
76) Ezekiel: (Hebrew) God Strengthens
77) Fabio: (Italian) Bean Farmer
78) Fidel: (Latin) Faithful
79) Forest: (French) Dweller Or Worker In The Forest, Woodsman, Woods
80) Fort: (French) Strong
81) Foster: (English) Forester, Woodman, A Forest Worker
82) Francis: (Latin) French Man Or Free Man
83) Franklin: (English) Free Landowner, Landholder
84) Frederick: (German) Peaceful Ruler, Ruler Of Peace
85) Gabriel: (Hebrew) Devoted To God, God Is My Strength, Hero Of God
86) Garrett: (Irish) Spear Strength, Brave, Rule With A Spear
87) George: (Greek) Farmer
88) Giancarlo: (Italian) Free Man
89) Gianluca: (Italian) God Is Gracious
90) Godric: (English) God's Power
91) Griffin: (Latin) Strong Lord, Fierce Person
92) Guy: (French) Guide, Leader
93) Hagan: (Irish) Young, Little Fire
94) Harding: (English) N Of The Courageous One, Hardy, Brave, Strong
95) Harvey: (French) Strong, Worthy, Eager To Battle
96) Helmer: (Teutonic) The Wrath Of A Warrior
97) Henry: (German) Home Ruler
98) Herbert: (German) Illustrious Warrior
99) Howard: (English) Noble Watchman, Chief Warden, High Guardian
100) Ignacio: (Latin) Fire, Fiery One
101) Imre: (Hungarian) Strength, Warrior
102) Ira: (Hebrew) Watchful One
103) Isaac: (Hebrew) He Laughs
104) Jack: (English) God Is Gracious
105) Jacob: (Hebrew) Supplanter
106) Jacob: (Hebrew) At The Heel, Supplanter
107) James: (Hebrew) Supplanter
108) Jedrek: (Polish) Strong Man, Warrior, Manly
109) Jerry: (English) Gerald, Ruling Spear
110) Jessie: (Hebrew) Gift, God Is Gracious
111) John: (Latin) The Grace Or The Mercy Of The God
112) Joshua: (Hebrew) God Is Salvation
113) Jovanni: (Latin) Father Of The Sky
114) Julian: (Latin) Youthful, Young
115) Kano: (Japanese) Ones Masculine Power
116) Kelly: (Irish) War, Lively, Bright Headed
117) Kenny: (Irish) The Handsome One, Masculine
118) kenzo: (Japanese) Strong, Healthy
119) Khari: (African) Kingly
120) Koa: (Hawaiian) Brave, Bold, Fearless
121) Kwan: (Korean) Strong
122) Kylen: (Irish) A Wood, A Church
123) Leo: (Latin) Brave People, Lion
124) Leonard: (French) Lion, Brave, Hardy
125) Leroy: (French) The King
126) Levi: (Hebrew) Attached, Joined
127) Liam: (Irish) Helmet Of Will, Valiant Protector
128) Lorcan: (Irish) Silent, Fierce, Brave Warrior
129) Louie: (French) Loud, Famous Warrior, Renowned Warrior
130) Lowell: (French) Young Wolf, Beloved
131) Lucas: (Hebrew) Light Giving, Illumination
132) Luke: (Greek) Light Giving
133) Magnus: (Latin) Great, Greatest
134) Malin: (English) Strong, Little Warrior
135) Malin: (English) Strong, Little Warrior
136) Malthe: (Danish) Rule, Power
137) Mao: (Japanese) True Center, Genuine, Real
138) Maoz: (Hebrew) Fortress, Stronghold
139) Mario: (Latin) God Of War, Virile, Masculine
140) Markus: (German) Mars, God Of War, Manly, Virile
141) Marley: (English) Pleasant Sea Side Meadow, Pleasant Wood
142) Martin: (Latin) Warlike
143) Mateo: (Spanish) Gift Of God
144) Maximus: (Latin) Greatest
145) Maynard: (German) Power, Strength, Might
146) Merrick: (Welsh) Powerful And Famous
147) Michael: (Hebrew) One Who Is Like God, The One Closest To God
148) Miles: (Latin) Soldier
149) Milo: (German) Soldier, Merciful
150) Monte: (Italian) Mountain, Man Power
151) Morgan: (Welsh) Sea Warrior, Sea Chief, Sea Defender
152) Muhammad: (Arabic) Name Of A Prophet, Praiseworthy, Possessor Of Fine Qualities
153) Napoleon: (French) Children Of The Mist
154) Neal: (Irish) Champion
155) Ned: (English) Wealthy Guardian
156) Nelson: (English) Name Of Nelson Mandela, Son Of Neil, Champion
157) Neron: (Spanish) Strong
158) Nicholas: (Greek) Victory Of The People
159) Noah: (Hebrew) Rest, Comfort
160) Nolan: (Irish) Champion, A Descendant Of Chariot Fighter, Famous, Noble
161) Oliver: (English) Elf Army, Ancestral Relic, Oliv Tree
162) Oscar: (English) God Spear, Champion Warrior
163) Osiris: (Egyptian) The One With Strong Eyesight
164) Oswald: (English) Devine Power
165) Owen: (welsh) Young Warrior, Well Born, Noble
166) Oz: (Hebrew) Strength, Powerful, Courageous
167) Patrick: (Latin) Noble Born, Patrician
168) Phoenix: (Greek) Dark Red
169) Quillon: (Latin) Crossing Swords, Strong
170) Quinlan: (Irish) Athletic, Fit, Shapely, Strong
171) Ragnar: (Norse) Warrior Or Judgment
172) Ramiro: (Portuguese) Great Judge
173) Randall: (German) Shield Wolf
174) Reagan: (Irish) Little King, Little Ruler
175) Reginald: (English) Judgment, Counsel, Wise And Judicious Ruler
176) Reynard: (German) Mighty, Brave, Strong, Powerful Advice
177) Reynold: (French) Mighty Counselor, Ruler, Advisor
178) Richmond: (German) Powerful Protector
179) Rinaldo: (Italian) Wise Power
180) Robert: (German) Bright Fame
181) Ronald: (English) Powerful, Mighty, Ruler
182) Ryan: (Irish) Little King, Descendant Of The King
183) Ryker: (Danish) Strong Power
184) Salvator: (Italian) Savior, Preserver
185) Santos: (Latin) Saints, Holy
186) Seamus: (Irish) Supplanter
187) Sebastian: (Latin) Venerable, Revered
188) Simeon: (Hebrew) God Is Listening
189) Swithun: (English) Quick, Strong
190) Takeo: (Japanese) Strong As Bamboo
191) Takeshi: (Japanese) Warrior, Fierce, Military
192) Terrell: (English) Thunder Ruler
193) Theodore: (Latin) God's Gift
194) Thor: (Norse) Thunder
195) Tiger: (French) Young Wolf, Bear Cub
196) Ulric: (English) Wealthy, Powerful Ruler
197) Uzziah: (Hebrew) The Lord Is My Strength And Power
198) Valdus: (German) Powerful
199) Valentine: (Latin) Strength, Health
200) Valerio: (Spanish) Strength, Health, Strong
201) Vladimir: (Russian) Renowned Prince
202) Warren: (French) Dweller
203) William: (German) Resolute Protector, Strong-Willed Warrior
204) Winston: (English) Joyful Stone, Stone Of Joy
205) Wyatt: (English) Brave In War
206) Wyatt: (English) Wood, Wide, Hardy, Brave, Strong
207) Xander: (Greek) To Defend, Defender Of Men
208) Zachary: (Hebrew) The Lord Has Remembered
209) Zale: (Greek) Power Of The Sea, Sea Strength
210) Zane: (English) God's Gift
211) Zeke: (Hebrew) God's Strength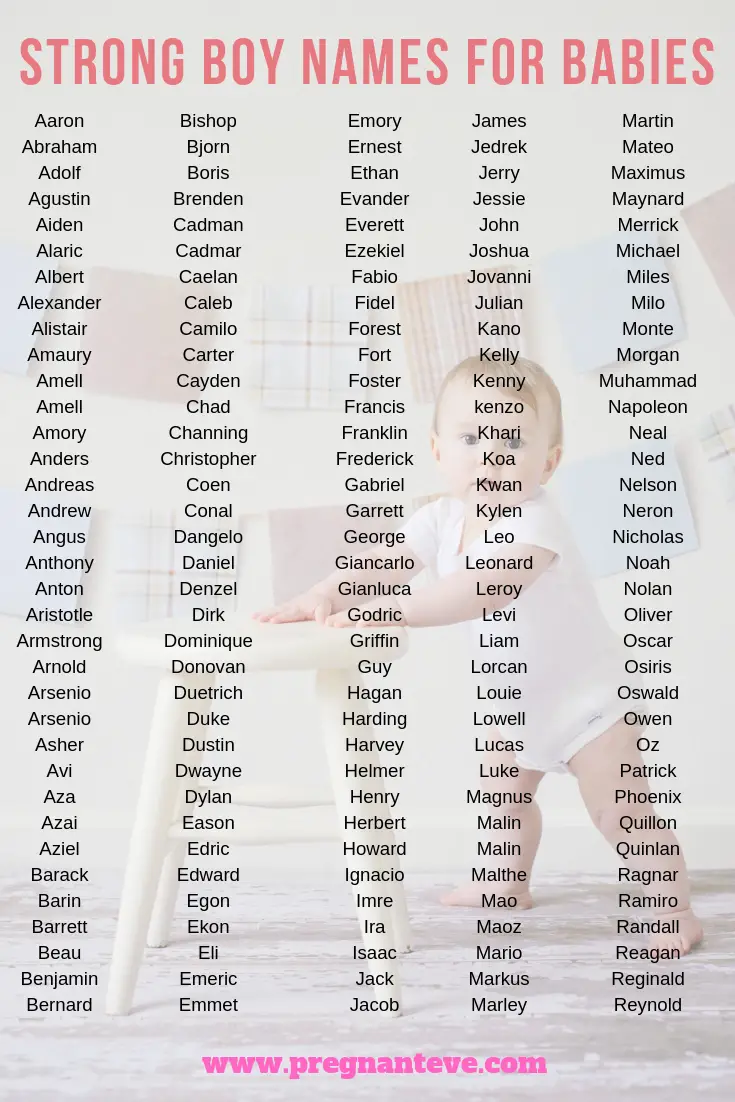 Strong Boy Baby Names table
| Baby Boy Name | Origin | Meaning |
| --- | --- | --- |
| Aaron | Hebrew | Exalted, Enlightened, Lofty |
| Abraham | Hebrew | Father Of Many Nations |
| Adolf | Danish | Noble Wolf, Majestic Wolf |
| Agustin | Spanish | Majestic Dignity, Grandeur, Great |
| Aiden | Irish | Little Fire, Fiery |
| Alaric | German | Noble Ruler, All Powerful Ruler |
| Albert | German | Noble, Bright, Famous |
| Alexander | Greek | Defender Of Mankind, Helper |
| Alistair | Greek | Man's Defender, Defender Of Mankind |
| Amaury | German | Bravery And Power, Work Ruler |
| Amell | German | Power Of An Eagle |
| Amell | German | Power Of An Eagle |
| Amory | English | Brave, Powerful, Leader |
| Anders | Scandinavian | Manly, Strong, Warrior |
| Andreas | Greek | Strong, Manly |
| Andrew | English | Manly, Masculine |
| Angus | English | One, Choice, One Strength |
| Anthony | Latin | Highly Praiseworthy, Priceless |
| Anton | Roman | Priceless, Inestimable Worth |
| Aristotle | Greek | The Best Of All, Superior |
| Armstrong | English | One With A Strong Arm |
| Arnold | English | Eagle Power, The Eagle Rule |
| Arsenio | Greek | Manly, Strong, Virile |
| Arsenio | Greek | Masculine, Strong, Virile |
| Asher | Hebrew | Happy, Blessed, Fortunate |
| Avi | Hebrew | Father Of Multitudes |
| Aza | Arabic | Powerful, Strong |
| Azai | Hebrew | Strength, Strong |
| Aziel | Hebrew | The Lord Is My Strength |
| Barack | Arabic | Blessing, Lighting |
| Barin | Teutonic | Noble Fighter |
| Barrett | German | Bear Strength |
| Beau | French | Handsome, Dandy |
| Benjamin | Hebrew | Son Of My Old Age |
| Bernard | German | Bold, Brave, Hardy |
| Bishop | English | High Ranking Member Of The Clergy |
| Bjorn | Scandinavian | Bear |
| Boris | Russian | Fighter, Fight |
| Brenden | Welsh | Prince |
| Cadman | English | Warrior, Fighter |
| Cadmar | Greek | Brave Warrior |
| Caelan | Irish | Powerful Warrior, People Of Victory |
| Caleb | Hebrew | Faithful, Trustworthy |
| Camilo | Latin | Helper To The Priest |
| Carter | English | One Who Transports Goods |
| Cayden | Gaelic | Battler, Fighter |
| Chad | Welsh | Battle |
| Channing | Irish | Young Wolf |
| Christopher | Greek | Carrie Of Christ |
| Coen | Dutch | Bold Advisor |
| Conal | Irish | High And Mighty |
| Dangelo | Italian | Devine Messenger, Messenger Of God |
| Daniel | Hebrew | God Is My Judge |
| Denzel | Cornish | One Who Is From The High Stronghold |
| Dirk | Danish | People Ruler |
| Dominique | Latin | Belonging To A Lord, A Master |
| Donovan | Irish | Little Dark Prince |
| Duetrich | German | Ruler Of The People, |
| Duke | English | Leader Of Men, |
| Dustin | English | Brave Fighter, Valiant Fighter |
| Dwayne | Irish | Dark, Black, Little Dark One |
| Dylan | Welsh | Son Of The Wave, Born Near The Sea, Influence |
| Eason | Irish | Protector |
| Edric | English | Wealthy Ruler |
| Edward | English | Wealthy Or Fortunate Guardian |
| Egon | German | Strong With A Sword |
| Ekon | African | Strong |
| Eli | Hebrew | High, Elevated |
| Emeric | Teutonic | Ruler, Leader |
| Emmet | Hebrew | Universal, Truth, Entire, Whole |
| Emory | English | Home Strength, Industrious Leader, Head Of The Household |
| Ernest | German | Serious, Battle To The Death |
| Ethan | Hebrew | Firm, Strong And Long Lived |
| Evander | Scottish | Bow Warrior, Strong Man |
| Everett | English | Wild Boar, Strong, Brave, Hearty |
| Ezekiel | Hebrew | God Strengthens |
| Fabio | Italian | Bean Farmer |
| Fidel | Latin | Faithful |
| Forest | French | Dweller Or Worker In The Forest, Woodsman, Woods |
| Fort | French | Strong |
| Foster | English | Forester, Woodman, A Forest Worker |
| Francis | Latin | French Man Or Free Man |
| Franklin | English | Free Landowner, Landholder |
| Frederick | German | Peaceful Ruler, Ruler Of Peace |
| Gabriel | Hebrew | Devoted To God, God Is My Strength, Hero Of God |
| Garrett | Irish | Spear Strength, Brave, Rule With A Spear |
| George | Greek | Farmer |
| Giancarlo | Italian | Free Man |
| Gianluca | Italian | God Is Gracious |
| Godric | English | God's Power |
| Griffin | Latin | Strong Lord, Fierce Person |
| Guy | French | Guide, Leader |
| Hagan | Irish | Young, Little Fire |
| Harding | English | N Of The Courageous One, Hardy, Brave, Strong |
| Harvey | French | Strong, Worthy, Eager To Battle |
| Helmer | Teutonic | The Wrath Of A Warrior |
| Henry | German | Home Ruler |
| Herbert | German | Illustrious Warrior |
| Howard | English | Noble Watchman, Chief Warden, High Guardian |
| Ignacio | Latin | Fire, Fiery One |
| Imre | Hungarian | Strength, Warrior |
| Ira | Hebrew | Watchful One |
| Isaac | Hebrew | He Laughs |
| Jack | English | God Is Gracious |
| Jacob | Hebrew | Supplanter |
| Jacob | Hebrew | At The Heel, Supplanter |
| James | Hebrew | Supplanter |
| Jedrek | Polish | Strong Man, Warrior, Manly |
| Jerry | English | Gerald, Ruling Spear |
| Jessie | Hebrew | Gift, God Is Gracious |
| John | Latin | The Grace Or The Mercy Of The God |
| Joshua | Hebrew | God Is Salvation |
| Jovanni | Latin | Father Of The Sky |
| Julian | Latin | Youthful, Young |
| Kano | Japanese | Ones Masculine Power |
| Kelly | Irish | War, Lively, Bright Headed |
| Kenny | Irish | The Handsome One, Masculine |
| kenzo | Japanese | Strong, Healthy |
| Khari | African | Kingly |
| Koa | Hawaiian | Brave, Bold, Fearless |
| Kwan | Korean | Strong |
| Kylen | Irish | A Wood, A Church |
| Leo | Latin | Brave People, Lion |
| Leonard | French | Lion, Brave, Hardy |
| Leroy | French | The King |
| Levi | Hebrew | Attached, Joined |
| Liam | Irish | Helmet Of Will, Valiant Protector |
| Lorcan | Irish | Silent, Fierce, Brave Warrior |
| Louie | French | Loud, Famous Warrior, Renowned Warrior |
| Lowell | French | Young Wolf, Beloved |
| Lucas | Hebrew | Light Giving, Illumination |
| Luke | Greek | Light Giving |
| Magnus | Latin | Great, Greatest |
| Malin | English | Strong, Little Warrior |
| Malin | English | Strong, Little Warrior |
| Malthe | Danish | Rule, Power |
| Mao | Japanese | True Center, Genuine, Real |
| Maoz | Hebrew | Fortress, Stronghold |
| Mario | Latin | God Of War, Virile, Masculine |
| Markus | German | Mars, God Of War, Manly, Virile |
| Marley | English | Pleasant Sea Side Meadow, Pleasant Wood |
| Martin | Latin | Warlike |
| Mateo | Spanish | Gift Of God |
| Maximus | Latin | Greatest |
| Maynard | German | Power, Strength, Might |
| Merrick | Welsh | Powerful And Famous |
| Michael | Hebrew | One Who Is Like God, The One Closest To God |
| Miles | Latin | Soldier |
| Milo | German | Soldier, Merciful |
| Monte | Italian | Mountain, Man Power |
| Morgan | Welsh | Sea Warrior, Sea Chief, Sea Defender |
| Muhammad | Arabic | Name Of A Prophet, Praiseworthy, Possessor Of Fine Qualities |
| Napoleon | French | Children Of The Mist |
| Neal | Irish | Champion |
| Ned | English | Wealthy Guardian |
| Nelson | English | Name Of Nelson Mandela, Son Of Neil, Champion |
| Neron | Spanish | Strong |
| Nicholas | Greek | Victory Of The People |
| Noah | Hebrew | Rest, Comfort |
| Nolan | Irish | Champion, A Descendant Of Chariot Fighter, Famous, Noble |
| Oliver | English | Elf Army, Ancestral Relic, Oliv Tree |
| Oscar | English | God Spear, Champion Warrior |
| Osiris | Egyptian | The One With Strong Eyesight |
| Oswald | English | Devine Power |
| Owen | welsh | Young Warrior, Well Born, Noble |
| Oz | Hebrew | Strength, Powerful, Courageous |
| Patrick | Latin | Noble Born, Patrician |
| Phoenix | Greek | Dark Red |
| Quillon | Latin | Crossing Swords, Strong |
| Quinlan | Irish | Athletic, Fit, Shapely, Strong |
| Ragnar | Norse | Warrior Or Judgment |
| Ramiro | Portuguese | Great Judge |
| Randall | German | Shield Wolf |
| Reagan | Irish | Little King, Little Ruler |
| Reginald | English | Judgment, Counsel, Wise And Judicious Ruler |
| Reynard | German | Mighty, Brave, Strong, Powerful Advice |
| Reynold | French | Mighty Counselor, Ruler, Advisor |
| Richmond | German | Powerful Protector |
| Rinaldo | Italian | Wise Power |
| Robert | German | Bright Fame |
| Ronald | English | Powerful, Mighty, Ruler |
| Ryan | Irish | Little King, Descendant Of The King |
| Ryker | Danish | Strong Power |
| Salvator | Italian | Savior, Preserver |
| Santos | Latin | Saints, Holy |
| Seamus | Irish | Supplanter |
| Sebastian | Latin | Venerable, Revered |
| Simeon | Hebrew | God Is Listening |
| Swithun | English | Quick, Strong |
| Takeo | Japanese | Strong As Bamboo |
| Takeshi | Japanese | Warrior, Fierce, Military |
| Terrell | English | Thunder Ruler |
| Theodore | Latin | God's Gift |
| Thor | Norse | Thunder |
| Tiger | French | Young Wolf, Bear Cub |
| Ulric | English | Wealthy, Powerful Ruler |
| Uzziah | Hebrew | The Lord Is My Strength And Power |
| Valdus | German | Powerful |
| Valentine | Latin | Strength, Health |
| Valerio | Spanish | Strength, Health, Strong |
| Vladimir | Russian | Renowned Prince |
| Warren | French | Dweller |
| William | German | Resolute Protector, Strong Willed Warrior |
| Winston | English | Joyful Stone, Stone Of Joy |
| Wyatt | English | Brave In War |
| Wyatt | English | Wood, Wide, Hardy, Brave, Strong |
| Xander | Greek | To Defend, Defender Of Men |
| Zachary | Hebrew | The Lord Has Remembered |
| Zale | Greek | Power Of The Sea, Sea Strength |
| Zane | English | God's Gift |
| Zeke | Hebrew | God's Strength |
Find more names for babies: Unique Baby Boy Names And Meanings, 191 Unique Baby Girl Names And Meanings
If you have some names to suggest, you can mail it to us. We will include them on our list. 😃