After taking a pregnancy test if the test says that you are pregnant, then it is a positive pregnancy test. After the initial euphoria, a question pops up: "Now, that it's a positive pregnancy test: Now what?"
With a positive pregnancy test, you are at the first milestone of a nine months-long process.
You may feel anxious, happy and worried altogether. Thoughts of labor, cramps, morning sickness, body changes and stretch marks, needless to say, makes you worry.
In this article, we will tell you exactly how to proceed once you get a positive test! ????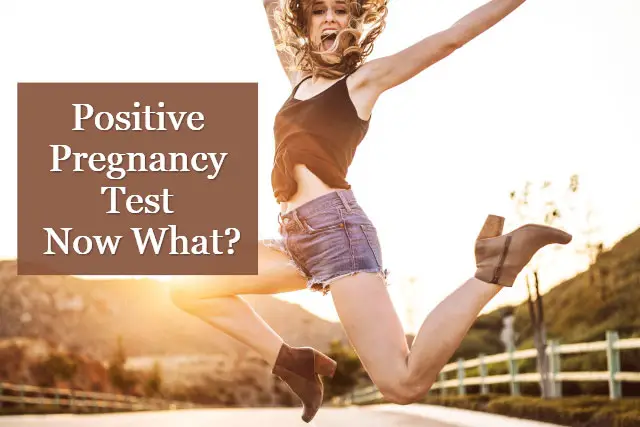 What is a positive pregnancy test?
A positive pregnancy test is the result that says you are pregnant. It can be a plus sign or pregnant phrase. Digital pregnancy tests show the word Pregnant or Yes. Standard pregnancy tests have hCG strips that show two lines for a pregnant woman.
A positive pregnancy test means that implantation of the embryo was successful and that hCG formation by placenta has begun. The placenta is a protective covering for the growing embryo.
The early placenta secretes the pregnancy hormone hCG. This is responsible for maintaining pregnancy and guides the other hormones needed for it. The same hormone starts coming in the urine of the pregnant woman. A home pregnancy test detects this hormone (hCG) is urine.
What does a positive pregnancy test look like?  
Every pregnancy test brand has a different way of showing positive pregnancy test. Some pregnancy tests show a plus sign for the positive pregnancy test.
The standard hCG strip pregnancy test shows two lines when the result is positive.
Digital pregnancy tests may either show 'Yes' or 'Pregnant'. A positive pregnancy test may be a faint line if you take the test too early.
A big fat positive pregnancy test is a clear test line when the hCG levels are enough. When you have twin pregnancy then you are more likely to get a positive pregnancy test.
Positive pregnancy test after miscarriage is also thin positive. After IVF treatment false positive pregnancy test looks like a positive pregnancy test.
Just by looking nobody can tell difference between a false positive and positive pregnancy test.
How does positive pregnancy test look during Ectopic pregnancy?
During an ectopic pregnancy, hCG levels can fluctuate. This is when you may get a positive then negative pregnancy test.
A positive pregnancy test during ectopic pregnancy is faint. The hCG levels don't rise rapidly in a tubal pregnancy.
What does positive pregnancy test look like in Ectopic pregnancy? Mostly in a tubal pregnancy, a positive pregnancy test is a very faint positive pregnancy test.
Your doctor can use methotrexate to treat a tubal pregnancy at an early stage.
An undiagnosed ectopic pregnancy can burst the fallopian tubes. Surgery of the tubes can affect the fertility of the woman.
If the tubes and ovaries need removal then the woman is left with a single ovary. Such a case will bring the cessation of ovulation cycle near.
The repertoire of eggs reduces to half as only one ovary is left. Ovaries have egg follicles in limited number and they don't increase after birth.
Unlike sperms in men, eggs are not made after birth. This is why a positive pregnancy test after ectopic pregnancy is significant.
How does pregnancy test look like in multiple gestations?
When there are more than one embryos developing in the womb then hCG levels rise more rapidly. They will be higher than a single embryo because there are two closely located placentas producing hCG.
Getting a big fat positive pregnancy test is more likely when you have multiple gestations.
But a home pregnancy test cannot confirm whether you have twin pregnancy or triplets.
Your doctor will use an ultrasound test after 6 weeks of pregnancy to confirm that you are pregnant with twins.
In 6 weeks ultrasound, you'll see two closely spaced placental sacs.
Positive pregnancy test: Now what?
After understanding and reassuring yourself that you did get a positive pregnancy test, read on.
Steps to take after you get your telltale two pink lines include your entire pregnancy schedule.
Unless it is a surprise or unplanned pregnancy the time to think about whether or not you want to be a mamma has ticked off.
Now, is the time to work on how to be a healthy and happy mamma to be – confetti! You don't need to become a pregnancy prodigy overnight. We're here to answer all your questions as they come. But you must start taking steps for a healthy and easy pregnancy.
1) Visit your gynecologist and get a blood test
The most important thing you must do after you know you're pregnant is to visit your gynecologist. Some women refrain from visiting their OB until its the fourth week.
Ideally you must not delay and head to the doctor soon after getting a positive home pregnancy test.
A pregnancy blood test will confirm pregnancy. Calculating your due date using online calculator is fine for settling the excitement. But only a doctor can time pregnancy using conventional conception calculator methods.
It will include the period from your last period. If you remember it, you can predict the date. But there are certain factors that only a doctor can consider and relate with your pregnancy due date.
Also your doctor will be able to diagnose whether the cause of hCG rise is pregnancy or empty egg.
2) Pregnancy Announcement and Celebrations
Pregnancy occurs for a few times in your life unless you intend on having a big happy family. Nevertheless each pregnancy is special.
There are endless funny ways to announce pregnancy or romantic ways to tell your husband that you are pregnant. Read about them, laugh, rejoice and relish this time of life. Later you're going to miss each of these moments.
Record, click snaps, decide your maternity photo shoot theme, gender reveal party and a whole lot. Are we sounding equally excited as you? We truly are!
3) Jotting your birth plan
It may seem early but there are so many options that you can start now. Whether you want a natural birth or C section. The trial of labor after C section TOLAC or Vaginal Birth After Caesarean VBAC are important when you have got a positive pregnancy test the second time.
Whether you want to have a labor coach, doula, midwife, or OB-Gyn is an elementary decision.
Similarly you will get to know your body's preferences such as comfortable positions, breathing techniques, candles, music, food etc. Keep adding them in the birth plan and always have a plan B.
Planning is important because if you decide a natural delivery then you must try birthing classes. Kegels will improve your chances of having a labor without tearing.
4) Maternity Leave, Breastfeeding choices
You can wait for at least 20 weeks before telling anyone about your pregnancy. There is absolutely no need for them to know and bother you every now and then asking questions.
Even if you'd be genuinely angry at something they'd put in on your hormones. And that can seriously trigger you beyond control.
So, keep your secret and blame it on chicken nuggets. Once you start showing your bump tell your boss not because you owe but rather to plan your maternity leave.
Work shouldn't suffer and someone can volunteer or be appointed to look after till you can rejoin.
Start thinking of breastfeeding plans, but not because it's time. Once you are in third trimester you practically will be too tired or moody to take such decisions.
If you have a toddler see that there is someone to attend to them. Helping hand for daily chores must be sorted.
5) Plan your diet and consult a nutritionist
What you eat directly affects your baby. Don't fall for 'eating for two' idea. Consult an expert about which prenatal vitamins do you need in first trimester.
Next check for empty calories. Observe your aversions and triggers of nausea. Eat small servings at regular intervals. Stop starve feed habits.
Stay hydrated all the time.
Include lots of veggies, fruits and natural foods. Check with your doctor regarding risks of gestational diabetes or other pregnancy disorders in you. Take necessary precautions.
Seafood during pregnancy or canned food needs a lot of care.
Constipation is going to drive you nuts and become a major reason for further complications. Make sure you know the suitable laxatives for your while pregnant.
6) Pregnancy Clothing and Stock Up Supplies
You're going to grow and you will need new clothes. Trying to fit in your tight jeggings will feel like a challenge you want to take up.
Wearing comfy clothes and soft maternity bras goes a long way for staying happy during pregnancy. Long arm bathing brushes, and accessories will make things easier for you. Old perfumes and soaps might make you feel sick, get mild ones.
Makeup kit need a makeover and only pregnancy safe makeup can come inside.
7) Read, Learn, Talk and Ask about Pregnancy
The more you'll learn the better you'll be prepared. So read about pregnancy, parenting, labor, breathing techniques, prenatal diet, postpartum depression etc.
Ask as many questions about pregnancy and related from us or anyone learned.
Talk to other women who have been through it or are in the same boat as you.
You will come to know of the most precious suggestions from people who have actually done what you're yet to do.
8) Relax, Sleep, and Start Pregnancy Exercises
Once the baby is here, momma is not going to get enough sleep. Midnight coos, cute fights for more milk, attention-grabbing moves and all possible adorable things will steal your night's sleep.
So, sleep, relax and keep calm during pregnancy.
Unexpected scary things will happen and only a peaceful mature mind can help you through them.
Don't panic and rush to the doctor at every little thing. It's 'pregnancy' and is gooing to be a real struggle.
Even if you've spent your life making excuses for not hitting the gym, it's time to workout. Search for pregnancy workouts, kegels, yoga for pregnant women, and labor coaches.
Running during pregnancy first trimester is safe and healthy exercise. The fit you're before childbirth the faster you'll lose weight postpartum!
9) Quit Smoking, Drugs, and Caffeine
No more party drugs, alcohol, smoking and coffee energy boosters. Enjoy your morning sickness hungover without touching alcohol.
Wine during pregnancy has new recommendations and you may get to drink a glass once in a while. Similarly, for caffeine, you can take a limited amount every day.
For antidepressants or any such medication you'll have to consult your doctor. Some of them can affect your baby's development.
10) Mark your calendar with prenatal visits, ultrasound, tests
Just so that you don't forget them. You have a whole lot of tests to choose from. You can skip few and others are mandatory.
Prenatal tests and screening such a maternal fetoprotein quad screen or fetal non-stress test will assess the state of your pregnancy.
Ultrasound scans will be more important than just bae goals.
11) Cuddle, Trouble and Love your Partner
Fight over baby's name, dress him up like your baby girl, sleep in his sweatshirt and make every second blissful.
Doubtful about sex during pregnancy? Sex is safe during pregnancy just a little bit of care to avoid jerks are pressure.
Nupe! baby isn't seeing you two and won't get hurt. These few months are the last time when you two are alone.
The little one is going to add on to this happiness but with a little bit of responsibility adding up too.
Start saving money too, because relationships with financial crisis after a baby have tragic endings.
Read parenting books and meet with parent kins grandparents would be best. Feel happy even when leg cramps hurt, or morning sickness strikes.
All the tough parts will make sense when they become memories.
12) Counseling sessions for Pregnancy
Don't let thoughts like your partner is drifting from you come to you. Your body is going through changes but he isn't.
For him, it will be difficult to be involved every second like you're.
Secondly, neither consider the baby a solution nor a burden. You need to work on your relationship yourself and sort things out too.
In case of conflicts regarding the distribution of parenting responsibilities or single parenting get counseling too.
Younger siblings need few sessions too in order to have the best setting for the new member. Their existence feels challenged until you involve them.
So make sure you're equally attentive to their needs. The newborn needs warmth and comfort but toddlers or elder ones need involvement.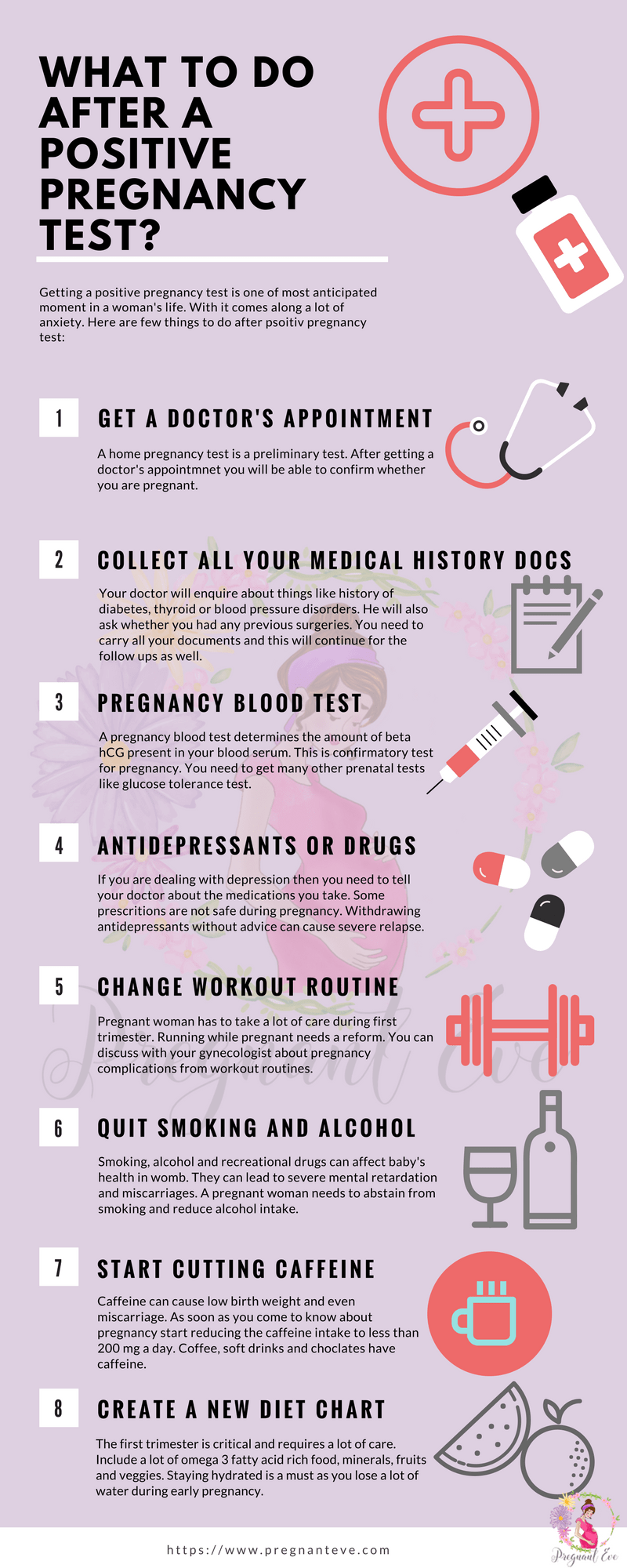 When should you go to the doctor after a positive pregnancy test?
After you get a positive pregnancy test, you must get a blood test done.
Your first prenatal visit can be soon after you get a positive home pregnancy test.
Do not hurry your appointment before you cross 3 weeks. Once you are sure that your home pregnancy test is accurate you can go to the doctor.
Women on birth control or not wanting to get pregnant must get an appointment before taking any over the counter drugs.
What does positive pregnancy test mean?
A positive pregnancy test means that you are going to be a mother soon. Pregnancy gives a positive pregnancy test result.
After the process of implantation is successful hCG starts coming in the urine of pregnant woman. A positive pregnancy test is also a sign that placenta formation is going normally.
If you have symptoms like shortness of breath, chest pain and cramping with a positive pregnancy test, you may be having a tubal pregnancy.
How accurate is a positive pregnancy test?
A positive or negative pregnancy test can be accurate or false. There is no guarantee that either of them will be accurate.
For getting accurate pregnancy test you must wait for the right time and follow instructions. Do not settle with a single test whatever be the result.
A positive pregnancy test after 4 weeks is most likely to be accurate. By the time you cross 4 weeks the levels of hCG are enough to avoid a false test.
Can there be false positive pregnancy test?
A false positive pregnancy test is rare but does occur. A false negative pregnancy test is more common.
A false positive pregnancy test means that you are actually not pregnant when the test says that you are. A false positive pregnancy test is possible when you take the pregnancy test after miscarriage or IVF.
This is because fertility drugs and hCG from previous pregnancy cause the pregnancy test to show positive results.
Some medicines also can give positive pregnancy test. Anti-inflammatory drugs and some antibiotics can cause false positive pregnancy test.