Have you been burned a hole in your pocket buying pregnancy tests and are wondering where to get free pregnancy test? 
A pregnancy test can be an expensive affair especially if you have to take them repeatedly.
Also in cases where you are a minor or a dependent then buying pregnancy test can be a difficult task. Very rarely will you need a single pregnancy test because you need to duplicate your pregnancy test.
Even after taking a home pregnancy test you cannot confirm pregnancy test results. Blood pregnancy test and hospital pregnancy tests confirm pregnancy.
So you have to also consult a doctor after that. It's better if you know where to get free pregnancy tests. In short pregnancy testing is expensive and one must know the right places where it is possible to get a free pregnancy test.
What is a free pregnancy test?
A free pregnancy test is not necessarily a completely free of cost pregnancy test. You might get even that, but a free pregnancy test might involve a minimal consultation fee.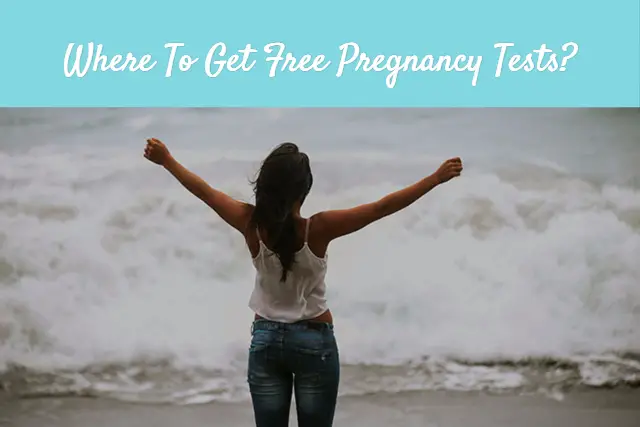 Where To Get Free Pregnancy Tests?
It is very probable that you will get a free pregnancy test at any of these places:
Government hospitals give free pregnancy tests: Government hospitals have this provision for giving you a free pregnancy test. They will even keep your identity confidential. In government hospitals, you will get a sugar pregnancy test or even a urine pregnancy test. It is far better than getting a home pregnancy test. You will have a doctor to analyze everything about your pregnancy condition. Another advantage of going to a hospital for a free pregnancy test is that they have highly qualified doctors. Unlike private places, there are least chances that they will fool or misguide you.
Non-Government Organizations (NGOs) for helping women give free pregnancy tests: There are many NGOs around the world for helping woman and children. They provide free health services. You can find the women NGOs in your neighborhood regions and contact them. Most of them give their details on websites. Your identity will be confidential. The NGOs will help you with further steps for your pregnancy. These are most suitable support systems for single mothers and rape victims. They might provide you financial support and take up your case. If they entitle you to their services, you'll not only get a free pregnancy test but other care too.
Military hospitals might give you free pregnancy tests: Military hospitals are only for the people who are serving in the defense forces of the nation. However, unless there is a war or an emergency situation most military hospitals don't get many patients. There are special provisions for providing health services to the needy and homeless people. You can go to the military hospital and enquire about the policies of that particular hospital. The biggest advantage of pregnancy test at a military hospital is that the doctors are the finest in the nation. They don't charge much. The medications and drugs will also be available to you at a very low price. All of it is from government aid.
Health camps might give you free pregnancy tests: If you are lucky that a health camp is being held just at the time when you need a pregnancy test, then you can get a free pregnancy test there. Even the regular health camps provide contraceptives, over the counter drugs, pregnancy tests, etc. for free. You need to locate the right health camp for you, ideally, the one which is the closest to you. Be very careful that you are going to a professional health camp and not a religious event. The primary aim is that you get a pregnancy test that is accurate. Health camps might fool you by asking for an amount in the name of donations if you get into a wrong health camp.
Stock clearance sales might give you free pregnancy tests: At times stock clearance sales are more than just clothes and gadgets. There might be a stock clearance sale just as the time before the expiry of a particular lot of medicines. These are not expired pregnancy tests. It will be simply that they have a huge stock left and by the time it is normally sold they will get expired. So they lower down the prices or even give the pregnancy test for free.
Some health insurances might get you free pregnancy tests: There are health insurance covers that'll allow you get special discounts for a particular medical service. You can search for such health insurance which has such benefits and assets coming along. You will have to take your insurance papers and show it at the chemist shop and get your free pregnancy test.
Generic medicine shops might give you a pregnancy test for free: Generic medicine shops sell the same drugs without the branding. As they don't have a brand, they come for a meager price. The price of the same prescription at a general chemist compared to a generic medicine shop is around 80% higher. At such a generic medicine shop you can even get a free pregnancy test.
Why do you need to go to these places for a free pregnancy test?
Only the above cases are reliable for getting a free pregnancy test. These are the only places which provide selfless social services.
Various undercover rackets are going on. Incidents of stealing of embryos, removing your organs and selling them off are everyday news tales. Quacks presenting themselves as doctors is such a common thing happening. If you get into the vicious cycle, there is no way out.
Sadly enough even reputed health institutions are stooping down to such a low level for doing unethical research.
They do not take your consent before using your data and body for their purpose and might even not keep your identity confidential.
These groups target the needy and helpless and the younger women. They might tell you that you are pregnant even though you might be not just so that they can perform an abortion operation and extract money from you.
It is imperative to be highly aware of everything related to your health. If someone cons you there is no end to the exploitation they can do.
If you indulge in such activities before the right age remember this that you are trading your life for few seconds of pleasure.