Precap
How much is a pregnancy test? You can get a pregnancy test for 1$ at Dollar Store. There are different options available ranging from 1-25$. Cheap pregnancy tests are equally good. Digital pregnancy tests are expensive and can detect early pregnancy.
Once you have missed periods, you have endless questions about pregnancy tests. These could be anything from how to take the pregnancy test, how does a pregnancy test work or even how much is a pregnancy test?
While the earlier questions have general answers, the costs of pregnancy tests vary a lot as different kinds of pregnancy tests flood the market. 
How Much Is A Pregnancy Test?
Types of Pregnancy Tests & their prices
| Type | |
| --- | --- |
| Standard pregnancy tests | These are the plastic pregnancy test kits that you see most often. They have a plastic casing and have an hCG strip inside. They can be used to take pregnancy test many times as they are not very expensive. |
| | Top brands are Clearblue, First choice, Rite Aid. |
| | Price Range is $1 to $6 |
| Dip strip pregnancy tests | A dip strip pregnancy test is the strips you get in a pack. They don't have a body and are simply hCG strips. You have to collect the sample in a cup and take the hCG strip and dip it in. Dip strip pregnancy test or hCG strips are the cheapest pregnancy tests. |
| | Top brands are U check, Wondfo |
| | Price range is $1 to $3 |
| Midstream Pregnancy tests | Midstream pregnancy tests work by bringing the hCG strip in urine. They have a plastic body and a grooved handle for easy maneuvering. They are of different prices and can be as inexpensive as a standard pregnancy test. |
| | Top brands are Answer, Equate, New Choice |
| | Price range is $3 to $10 |
| Digital pregnancy tests | Digital pregnancy tests have a digital display of the results. However, the basic principle of working of the pregnancy test remains the same and that is it uses an hCG strip to detect hCG in urine. They are far more accurate than a standard pregnancy test. And so you have to pay a higher sum for them. |
| | Top brands are Clearblue, First Response |
| | Price range is $10- $20 |
| Rapid response pregnancy tests | Rapid response pregnancy tests have a different principle of working. They don't rely on a single hormone coming in urine and consider all the pregnancy hormones for testing pregnancy. They give the pregnancy test results within seconds and so are the fastest pregnancy tests. This makes them more precise and most expensive pregnancy test. |
| | Top brands are First Response Rapid Response Pregnancy .gives results within 45 seconds |
| | Price range is $10 - $20 |
| Blood home pregnancy tests | Blood home pregnancy test detect pregnancy hormone hCG in blood. They are considerably more precise as you can test at any time of day and yet get an accurate result. Nevertheless, they are difficult to use. |
| | Costly |
| Dropper pregnancy tests | Dropper pregnancy tests come with a dropper for application of the urine sample. One may expect them to be more expensive because if additional components but that is not the case. They come for a low price just like a standard pregnancy test. |
| | Top brand is QuickVue |
| Pregnancy tests that come with a cup and accessories | These might be slightly expensive, but there are cheaper varieties too. |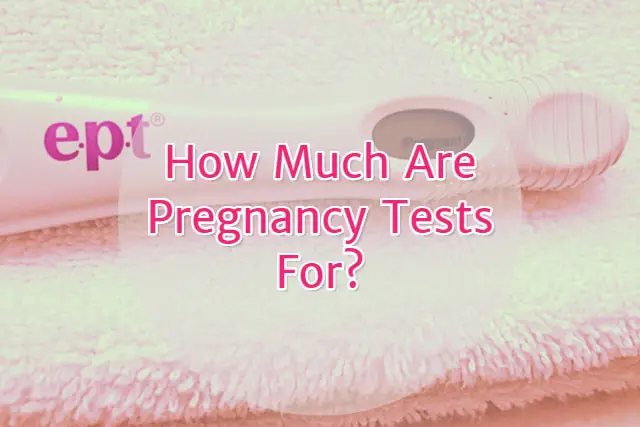 Where can I get the cheapest pregnancy test?
Dollar Store Pregnancy Tests are every woman's friend. As the name suggests these pregnancy tests come only for a Dollar. The bigger brands too give their pregnancy tests for sale at the Dollar store. If there is a sale at the Dollar Store, then you might get the pregnancy test for cents.
Walmart Pregnancy tests too are very cheap. They come as sets of 2 or 3 and hence become furthermore pocket-friendly.
Are cheaper pregnancy tests worth it?
Dollar Store Pregnancy Test or Walmart Pregnancy test is perfectly reliable. They are within expiry duration, accurate and sensitive pregnancy tests.
Is there a brand that sells duplicate pregnancy tests?
This is a question we receive very often. The brand Equate manufactures pregnancy tests that are mimics are features of high-end brands. They are cheap like the less expensive ones.
It brings the best of two and gives you a midway to get through.
They have labels like 'compared to first response' or 'compared to EPT'. That indicates the respective features of that particular brand.
Here is the complete review of Equate Pregnancy test.
You should not think much about the affordability of a pregnancy test if you want to detect an unwanted pregnancy. But if you need to take a pregnancy test every day, then the price of pregnancy test can be a big issue. In such a case when you are trying to get pregnant, a question like, how much is a pregnancy test is valid. 
However, in either case, the accuracy of the pregnancy test is the first priority and only then comes the price.